Mercedes-AMG Unveils "Project One" Hypercar With 1,000 HP (Photos)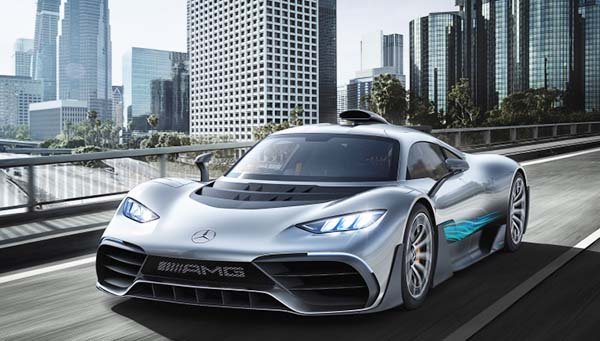 With an output of over 1,000 hp and a top speed beyond 350 km/h this hypercar handles exactly as it looks: it takes your breath away. The concept car gives specific indications of what to expect from the upcoming production Mercedes models.
The high-performance plug-in hybrid drive system of the Mercedes-AMG Project ONE comes directly from Formula 1. It consists of a highly integrated and intelligently networked unit comprising one hybrid, turbocharged combustion engine with a total of four electric motors. One has been integrated into the turbocharger, another has been installed directly on the combustion engine with a link to the crankcase and the two remaining motors drive the front wheels.
The 1.6-litre V6 hybrid petrol engine with direct injection and electrically assisted single turbocharging comes directly from the Mercedes-AMG Petronas Formula 1 racing car. The vehicle is mid-engined (ahead of the rear axle) and it can easily reach speeds of 11,000 rpm, which is currently unique for a roadgoing vehicle.
The electric motors on the front axle are also true rev wonders, with rotor revolutions up to 50,000 rpm – current state of the art is a speed of 20,000 rpm. The very high-revving engine is additionally boosted by a high-tech turbocharger.
See Related Post The N500 million Mercedes Benz G63 AMG Limo (Photos)
The electric turbocharger brings about another advantage: it uses parts of the surplus energy from the exhaust system to generate electricity, and either stores it in the high-voltage lithium-ion battery as part of recuperation or provides additional drive power by feeding it to an additional electric motor. This motor produces 120 kW.. There will also be two further 120 kW electric motors at the front axle.
Impressive acceleration figures are possible with the Race Start function: acceleration from zero to 200 km/h takes under six seconds. Power is transferred to the rear wheels by an 8-speed transmission that has been entirely developed from scratch for the Mercedes-AMG Project ONE. It is activated hydraulically and can be operated in automated mode or manually using the shift paddles.
The interior has two high-resolution, free-standing 10-inch displays and high-quality stowage compartment fitted with a transparent lid.
The Mercedes-AMG Project ONE will not only be an ultimate driving machine that directly brings current Formula 1 hybrid technology onto the road and combines top-class race track performance with full day-to-day suitability. Its purpose is also to obtain extensive findings about performance-oriented plug-in hybrid drive technology, further developments of suspension layouts and extended onboard electronics that will later benefit series production AMG cars. The Project ONE team is working hard on successfully bringing this vision onto the road.
See Related Post The N500 million Mercedes Benz G63 AMG Limo (Photos)