Mercedes Unveils The Future Of Ride Sharing With Smart Vision EQ Fortwo (Photos)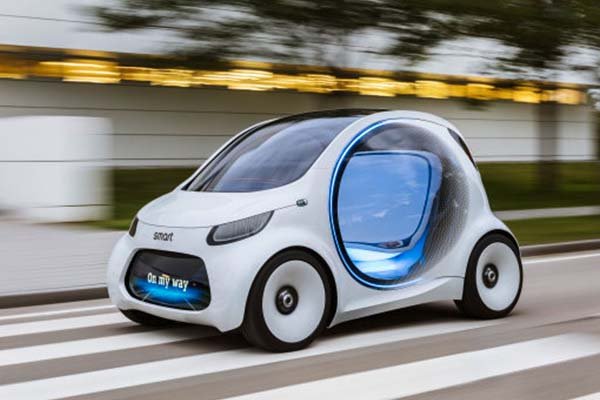 The smart vision EQ fortwo provides a new vision of urban mobility and individualised, highly flexible, totally efficient local public transport: the autonomous concept vehicle picks up its passengers directly from their chosen location. New individualisation options help users to recognise that it is "their" vehicle: as the car displays your pre-customized message by means of the Black Panel Grille at the front as well as large projection surfaces at the sides.
The car allows unprecedented individualisation of the vehicle, ideal for car sharing. Passengers are free from the task of driving, and are able to relax while in transit to their destination.
It will be built on a corporate strategy called "CASE". CASE stands for the strategic pillars of connectivity (Connected), autonomous driving (Autonomous), flexible use (Shared & Services) and electric drive systems (Electric).
See Related Post This Mercedes-Maybach 6 Cabriolet Has The Best Interior For 2 (Photos)
The smart vision EQ fortwo is summoned using a mobile device. The front radiator grille serves on the one hand to add a personal touch and on the other to communicate with other road users (e.g. information for pedestrians crossing the road). The doors of the show car are coated with a film that can be activated as required. If the car is unoccupied, information about local events, the weather, news or the time can be displayed.
It features a rechargeable lithium-ion battery with a capacity of 30 kWh. When not in use, it makes its way independently to a charging station to load up with new energy.
The car dispenses the steering wheel and pedals when needed making the interior even more spacious.. and the dashboard is replaced by a 24‑inch (58.5 x 15.6 cm) screen.
See Related Post This Mercedes-Maybach 6 Cabriolet Has The Best Interior For 2 (Photos)