Mercedes-Benz Now Joins The Bandwagon To Use Tesla's Supercharger Network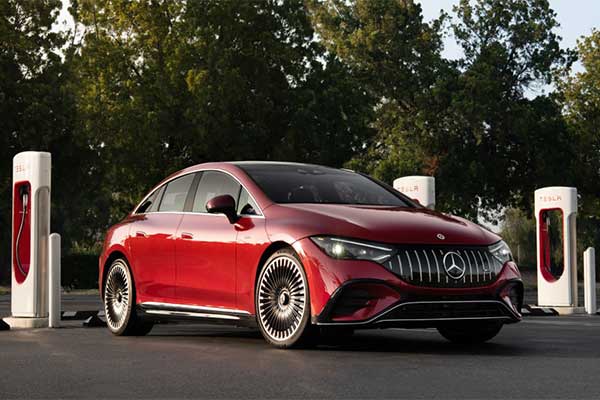 Over the past few weeks, we've seen a lot of EV makers jumping on the NACS (North American Charging Standard) bandwagon, announcing that they'll sell cars in North America with that connector developed by Tesla, and in exchange, they'll get access to Tesla's extensive Supercharger network for their vehicles.
And now there's another one. While Volvo took the title of the first European car maker to publicize its plan to hop onto the NACS train, Mercedes is the first German carmaker to do so.
As with all the other companies that previously announced the exact same thing, Mercedes cars will have the NACS connector by default in the US and Canada starting in 2025. Before that, existing Mercedes EVs will get access to the 12,000 Tesla Superchargers across North America starting in 2024, through the use of an adapter for its cars that have a CCS connector instead.
The story for Mercedes doesn't end here, however. It is planning to establish its own "High-Power Charging Network with more than 400 Charging Hubs, including more than 2,500 high-power chargers in North America by the end of the decade, together with its American partners".
The first such Mercedes Charging Hubs in North America will open by the end of this year and will be equipped with both CCS1 and NACS plugs. Globally, the brand wants to have more than 2,000 of these Charging Hubs by the end of the decade, comprised of more than 10,000 charging points, "which can further be expanded depending on market needs". These Hubs will be open to EVs from all brands.
Ola Källenius, Chairman of the Board of Management at Mercedes-Benz Group AG said:
Our strategic priority is clear: Building the world's most desirable cars. To accelerate the shift to electric vehicles, we are dedicated to elevating the entire EV experience for our customers – including fast, convenient, and reliable charging solutions wherever their Mercedes-Benz takes them. That's why we are committed to building our global Mercedes-Benz High-Power Charging Network, with the first sites opening this year. In parallel, we are also implementing NACS in our vehicles, allowing drivers to access an expansive network of high-quality charging offerings in North America.