Mercedes Benz Unveils Its Full-Size 7-Seater EQS SUV With All The Luxury Features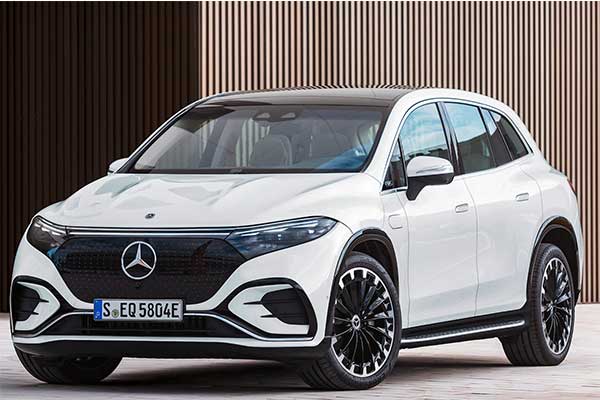 It's just over a year since Mercedes-Benz Launched the EQS luxury EV sedan and it's the talk of the town, yet again the German auto manufacturer has launched the EQS SUV which seats 7 passengers in complete luxury.
Underneath that bubbly silhouette is what many will see as a larger and more spacious EQS and that makes sense as they share the name. Here's a deeper dive into the new all-electric luxury SUV that might just be the new king of the class.
The EQS SUV is due later this year, in EQS 450+ and EQS 580 4Matic grades. The EQS 450+ will come with a single motor at the rear, rated at 355 hp and 419 lb-ft of torque. The EQS 580 4Matic will have a dual-motor all-wheel-drive system good for 536 hp and 633 lb-ft. Acceleration and top speed figures haven't been announced.
Taking styling cues from the sedan, the EQS SUV has the signature black panel at the front, flanked by the standard Digital Light Headlamps. Despite the lack of an ICE engine, power domes on the hood clue road users into the horsepower on offer and lend the luxury SUV a touch of aggression.
Just like in the EQS Sedan, the technology in the EQS SUV pretty much smokes every other brand on the planet bar none. The 450+ will come standard with a 12.8-inch infotainment screen and a 12.3-inch driver information display. It'll also come with a panoramic sunroof, heated and ventilated seats, and the option to add a third row for a total passenger capacity of seven.
Spend a little more on the 580 4MATIC and you'll automatically get the gigantic MBUX Hyperscreen with its trio of screens under a single 56-inch panel of curved glass. As Mercedes rightly points out, it pretty much makes anything else look old. Buyers who opt for the rear-seat entertainment system get even more impressive features though.
The EQS SUV will arrive at dealerships in late 2022. Pricing information will be announced closer to the on-sale date.