Hongqi Launches Its Massive LS7 SUV And It Comes Loaded With Luxury Features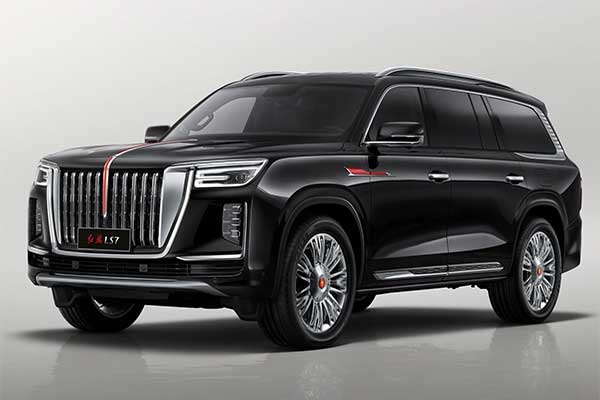 Hongqi, a Chinese automaker, has just launched the Hongqi LS7, a premium ICE-powered SUV with a large footprint and a luxurious interior. The car was supposed to be unveiled during the Beijing Auto Show, but due to the postponement, Hongqi revealed it online.
Starting with the sheer size of this thing, the Hongqi LS7 measures 5,695 mm (224 inches) long, 2,095 mm (82.5 inches) wide, and 1,985 mm (78.1 inches) tall, with a wheelbase of 3,309 mm (130.3 inches). Those figures make the 5,252 mm (206.8 inches) long Range Rover look small in comparison. In fact, the Hongqi LS7 is longer than the BMW X7 and the Mercedes-Maybach GLS, with only the long-wheelbase variants of American full-size SUVs like the Cadillac Escalade ESV surpassing its footprint.
The front-end design is quite impressive and attention-grabbing, with a huge grille with shiny chrome rims, standing upright in front of the car, combined with full-LED headlights divided in accordance with current fashion. The red detail right in front of the primary door mirror imitates the company's name – Hongqi means "red flag" in Chinese.
The exterior of the car also has some other notable highlights, such as opening and closing steps, two-level LED taillights, with the upper floor being a continuous strip running across the rear of the car. The Hongqi LS7 has the traditional body of a large SUV, with a high bonnet and long rear end.
As for Hongqi LS7 interior, it came with a spacious cabin, and the steering wheel of the LS7 also seems to be inspired by Rolls-Royce. The dashboard, centre console, and automobile door are made of the fancy mahogany wood-clad, these updates make a focal point in the interior. Furthermore, It is combined with gold accents and leather upholstery for a luxurious atmosphere.
Under the Hongqi LS7 bonnet is a turbocharged 4.0-litre V8 that makes 360 hp and 550 Nm (406 lb-ft) of torque. This engine seems weak for a large SUV like the Hongqi LS7, so it is understandable when the top speed of the car is 200 km / h.