See The Newly-Adopted Mobile Testing Vehicles China Use For COVID-19 Tests
Beijing launched the operation of two mobile nucleic acid testing vehicles on Sunday in the city's Xicheng and Chaoyang districts to raise testing efficiency and improve the working environment for medical staff. Residents in the capital can receive the covid-19 tests conveniently near their communities or workplaces.
Report has it that China has successfully conducted covid-19 tests on over eight million people in Beijing, Capital  city of China. Nearly 8.3 million residents of Beijing have received nucleic acid tests as of Sunday noon since the resurgence of domestically transmitted COVID-19 cases, local authorities said on Sunday.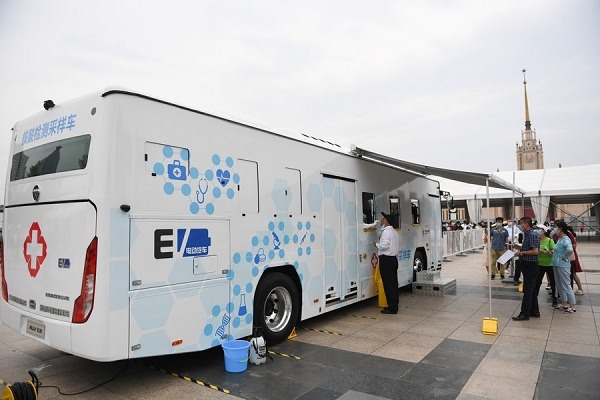 The mobile testing vehicles are from the Foton Motor Group. Each vehicle can provide space for four groups of medical staff to take samples at the same time. In addition to the medical facilities, each vehicle is equipped with a rest area where people cool off in air-conditioning and enjoy protection under sun-proof shades, which are welcomed by medical staff, as well as those who received the tests Sunday afternoon.
In some of the pictures, you'll see medical staff members taking throat swab samples from people at a newly-adopted mobile testing vehicle in Xicheng District of Beijing, capital of China.