Photo Of The Day: 2024 Mercedes-Benz E-Class Interior Unveiled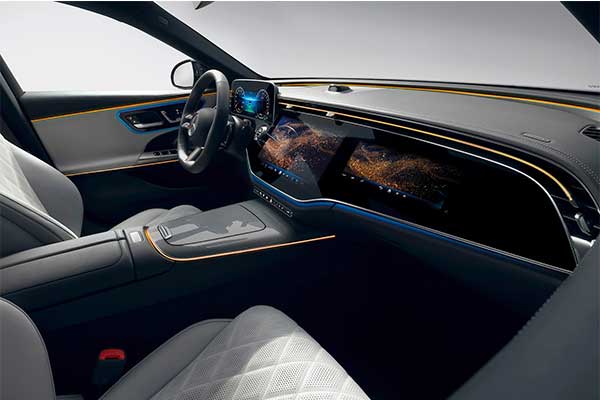 With the new model launching any moment from now, Mercedes-Benz has decided to tease its 2024 E-Class interior and from all indications, it looks futuristic with styling cues from the EQE EV.
The layout is not a carbon copy of the EQE's interior since Mercedes has opted for slimmer outer air vents with a curved shape, connecting them to the main central vent. It gives the dashboard a sleeker and more minimalist look by doing away with the turbine-styled lateral air vents of the electric sedan. Eagle-eyed readers will also notice the row of shortcut buttons has been relocated from the front of the central armrest to below the main screen.
Depending on the specification, up to three screens will feature on the dash. There will be one for the instrument cluster, another for the infotainment hub, and a third and final screen facing the front passenger. The content shown on the screens is generated by Mercedes' own operating system, as well as the MBUX infotainment system. However, third-party apps can also be installed. Mercedes gave examples of TikTok, Angry Birds, and the web browser Vivaldi.
Another new tech on display today is a "visual shield" for the passenger screen, which sounds similar to what Jeep does with its passenger screen to keep the driver from being distracted by it. Mercedes uses something it calls "dual light control" tech to ensure the driver can't see the screen with their peripheral vision. If the camera in the vehicle still detects the driver's eyes trying to see the screen, it will further dim it to make doubly sure they can't watch whatever movie or video the passenger is enjoying.