Pictures Of How The Yaba Transport Interchange Will Look When Completed
Governor Babajide Sanwo-Olu of Lagos State has commissioned the world-class Yaba Bus Terminal from which buses will originate and terminate.
The bus station, built by the Lagos Metropolitan Area Transport Authority (LAMATA), is an ancillary infrastructure that will complement the Lagos Rail Mass Transit (LRMT) Red Line currently being constructed along Yaba corridor.
The Yaba Bus terminal will complement the ongoing Lagos Rail Mass Transit (LRMT) Red Line rail infrastructure.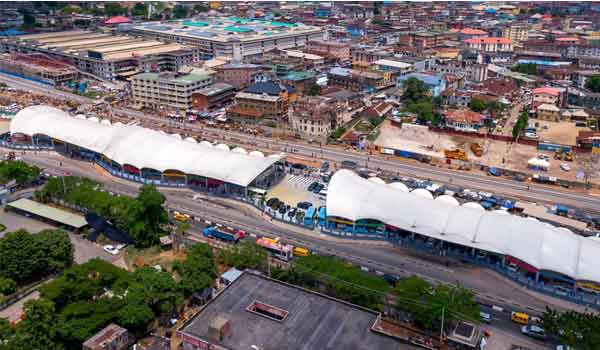 The terminal will connect to the Red Metro station to facilitate an integrated mass transit and seamless connectivity among all means of land transportation. The project, which dragged for years due to funding issues, is part of the Bus Reform Initiative of the State Government.
The ongoing Yaba Train Station would be integrated with the Yaba Bus terminal to make Yaba a major transport interchange.
The Murtala Muhammed Way, which will be the take-off point for the overpass bridge over the rail lines to take traffic into Ojuelegba Road.
During the commissioning ofthe Yaba Bus Terminal,GovernorSanwo-Olu said, "I am happy to inform you that in the next 18 months, the Yaba Bus Terminal will be integrated with the Red Line Yaba Rail Station that is being constructed a few metres from this place.
"Once the rail line is completed, passengers will be able to choose the transportation mode they prefer to get to their destinations", he added.
Below is a simulation of the proposed Yaba Transport Interchange.