Refreshed 2024 Mercedes-Benz GLS Luxury SUV Ready To Steal BMW's X7 Thunder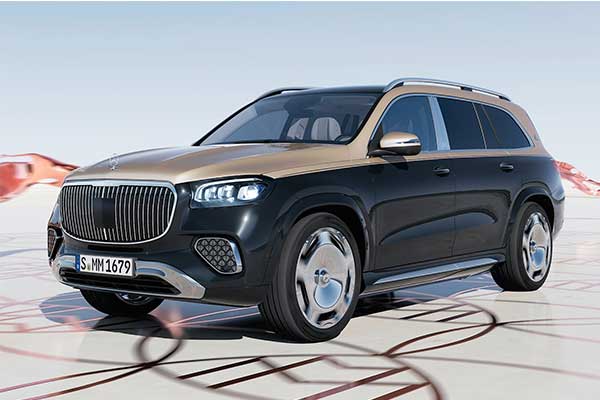 Mercedes-Benz has taken the lid off its refreshed GLS luxury SUV for the 2024 model year and inasmuch as not much of a difference, there's still a difference nonetheless. The regular GLS, ultra-luxury Maybach GLS 600, and the high-performance AMG GLS 63 have benefitted from this mid-cycle update, making the big Benz an even greater threat to the competent BMW X7.
Starting from the front, the front grille is even more prominent than before, looking bigger and packing additional slats on the regular models. The lower part of the bumper has been reworked a bit, too. At the back, the only real change is the new taillights. And of course, the Maybach and AMG variants get unique grille inserts and other model-specific exterior cues. A couple of new colors are also now available: Twilight Blue and Alpine Grey.
Inside, Mercedes supplies customers with new leather options, from Catalana Beige and Bahia Brown/Black to Crystal White and Silver Gray Pearl as well as Mahogany Brown and Macchiato Beige. There are additional interior trim choices too, including glossy Brown Linden Wood and MANUFAKTUR Piano Lacquer Flowing Lines. Previously, the latter was only available on the extra-expensive Maybach model.
The GLS lineup gets new steering wheels with touch controls on the spokes. The mid-cycle refresh also brings the latest version of the Mercedes MBUX infotainment system, featuring new display designs (the AMG has some unique layouts).
No change has been made to the powertrains offered in the GLS-Class. There are 3.0-liter inline-6 (375 hp) and 4.0-liter V-8 (510 hp) engines, both of them turbocharged and fitted with mild-hybrid systems. The Maybach GLS also features the 4.0-liter V-8, but with a 550-hp rating. It also has a mild-hybrid system.
For ultimate performance, there's the AMG GLS 63. This version features an AMG-developed 4.0-liter V-8 that's also turbocharged and equipped with a mild-hybrid system. The engine delivers a peak 603 hp and the mild-hybrid system adds 21 hp during high-load situations.