Rolls Royce Launches A One-Off Phantom Syntopia That Took 4 Years To Develop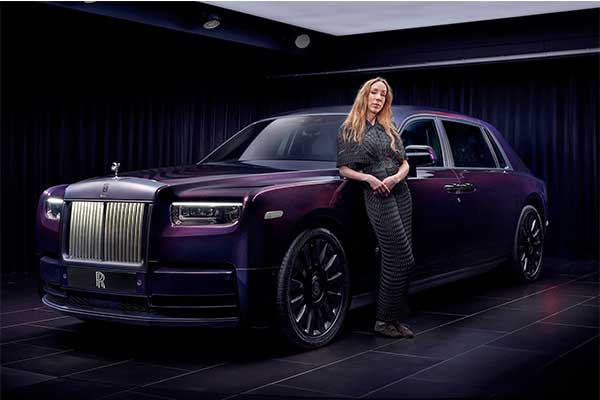 Rolls-Royce worked with Dutch fashion designer Iris van Herpen to make its most elaborate one-off vehicle yet. Unveiled Monday, the Rolls-Royce Phantom Syntopia is the "most technically complex commission ever undertaken" by the automaker's bespoke division.
The unique vehicle is based on the Phantom Extended, which Rolls describes as the "ultimate blank canvas for personalization," and has been under development and building for the last four years. The ultra-exclusive Phantom takes its name from Iris van Herpen's 2018 collection, which was inspired by patterns and shapes found in nature. The Phantom Syntopia follows the same overall design recipe, focused on the beauty of fluid motion in solid materials. Rolls-Royce calls this theme Weaving Water.
The Syntopia's exterior is a purply, swirly take that elevates the elegant Phantom's design. The company said the iridescent paint has blue, magenta, and gold undertones. The Liquid Noir color starts with a solid black paint covered by a color-shifting overlay and a clear-coat outer layer with integrated pigment. Developing this new paint took Rolls several months, requiring more than 3000 hours for testing and validation.
Inside, the Bespoke Starlight Headliner was made using a single sheet of blemish-free leather featuring precise symmetrical cuts that expose a silver 'liquid metal' texture made of woven fabric. This comes from the Couturiere's 'Embossed Sounds' Collection and gives the headliner a 3D effect, thanks to 162 petals made of glass organza applied to the car by van Herpen's team in a process that took almost 300 hours. After that was done, 187 of the 995 fiber optic 'stars' were placed by hand and illuminated sequentially, starting at the rear and moving to the front. RR says the Headliner alone took nearly 700 hours to complete.
Another very interesting detail is the design of the picnic tables which mirrors the Weaving Water theme of the Phantom's front hood. This unique finish was achieved by combining multiple coats of paint and lacquer containing different quantities of glass particles. The formula was perfected for four months by the automaker's Exterior Surface Center before it was ready to be applied to the car with nine trial versions made before finding the ideal proportion of glass particles.
Powering the Phantom Syntopia is the same twin-turbo 6.75-liter V12 engine making 563 horsepower and 627 lb-ft of torque coupled with an 8-speed automatic transmission all-wheel drive system.