Rolls-Royce Presents Greenpower Car To 8 Year Old 'Young Designer Competition Winner'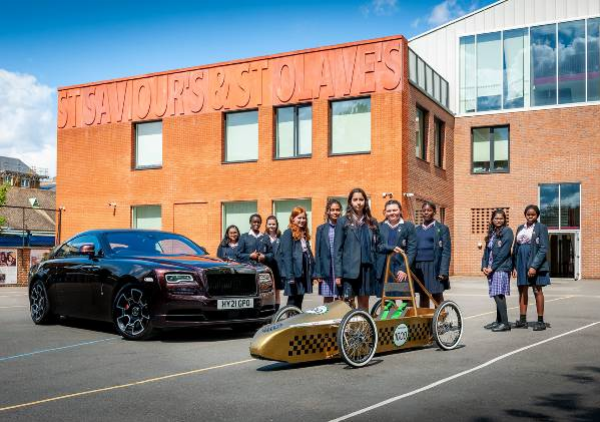 Rolls-Royce Motor Cars presents Greenpower car kit to Year 8 pupils at St Saviour's & St Olave's School
The car forms part of the prize awarded to UK regional winner, Sofia, in the marque's global Young Designer Competition.
Sofia's design Bumblebee 5000 was one of more than 5,000 entries submitted by children age 5-16 in over 80 countries worldwide
Sophia and her nine teammates will take part in Greenpower's design-build-race a car challenge this year.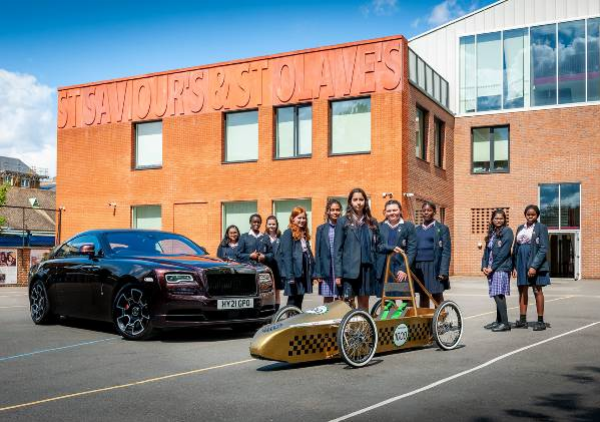 Rolls-Royce Motor Cars has presented a Greenpower car kit to Sofia, an 8 year old UK regional winner in the marque's global Young Designer Competition held in 2020.
The presentation was done at the playground at St Saviour's & St Olave's School, a highly successful Church of England school for girls in inner-city Southwark, South London.
The occasion was graced by the official Greenpower demonstration car, finished in a striking gold livery. Also on display is a magnificent Wraith, the most powerful Rolls-Royce ever made.
Although both cars on display represent the very best of their kind, neither can match the features or capabilities of Sofia's winning entry in the Young Designer Competition.
Her Bumble Bee 5000 is driverless, and equipped with comfortable tables and chairs, a disco ball, the best surround sound system, WIFI, GPS, a hook for luggage and much more. It also changes colour depending on the occasion or season.
Andrew Ball, Head of Corporate Relations, Rolls-Royce Motor Cars
"We're delighted to present this new Greenpower car to Sofia and her teammates at St Saviour's & St Olave's School.
"She was a worthy winner in our Young Designer Competition with the wonderful Bumblebee 5000, and clearly has a great imagination and eye for detail.
"While her winning design was a dream-car of the future, the Greenpower project gives her and her friends the opportunity to design and build their own 'real' working car, in the present day. We look forward to working with them on their design and wish them every success in the racing season to come."
Rolls-Royce presented a complete new Greenpower car kit to her school to be used in future events run by the Greenpower Education Trust. This UK-based charity aims to inspire young people to excel in science, technology, engineering and maths (STEM) subjects through designing, building and racing an electric car.
The car kit presented by RollsRoyce to the school comprises a standard chassis, motor and batteries – it's left to the team to design and build the bodywork themselves. Sofia and nine friends, all currently in Year 8, have formed 'The Rolls Racers' to create their car.
The team will receive advice and support from Gavin Hartley, Head of Bespoke Design at Rolls-Royce Motor Cars and one of the Yung Designer Competition judges.