See How Parked Trailers Are Causing Damage To Lagos Bridges (PHOTOS)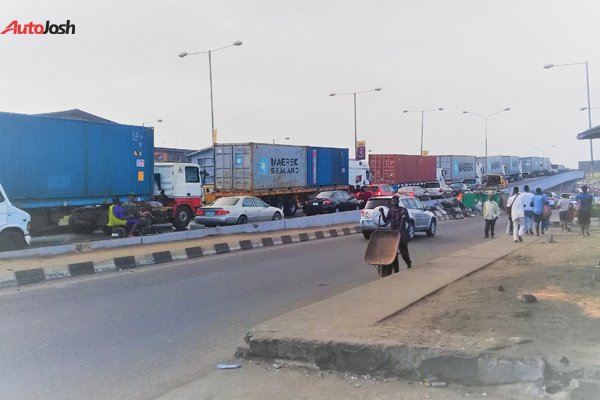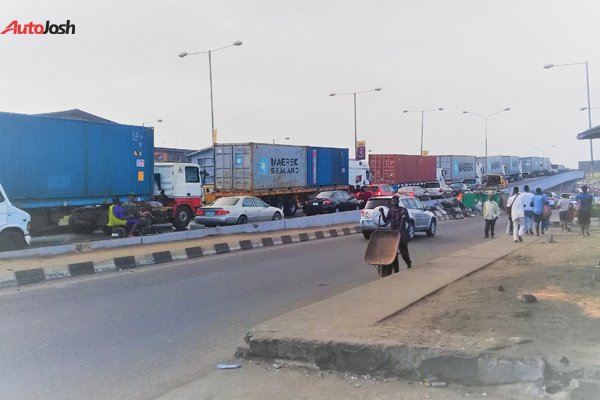 Anyone that plies most of the important bridges in Lagos would by now be familiar with the sights of parked trailers on them.
Some of these bridges include Ojuelegba, Abati, Staidum, Ijora, Iganmu, Eko, Carter and Jibowu bridge.
The trailers are parked on these bridges due to the overstretched Apapa port and the absence of loading bays for these trucks.
These parked articulated vehicles are also the cause of the chaotic traffic flow on and around these bridges.
Besides the traffic gridlocks that these parked trailers cause, there is also an issue that deserves urgent attention.
These bridges are currently suffering enormous strain from the weight of these heavy-duty vehicles.
Note that some of these bridges were built in the early 1970s. By their design, they were constructed to carry moving loads within second. They were not built to retain loads for a prolong period. Sometimes, some of these trucks stay parked on the bridges for days and even weeks.
Daily, hundreds of these parked articulated vehicles of various sizes can be counted on these bridges.
It is also important to note that an empty 20-feet container weighs 2,000kg. A 40-feet container weighs twice that amount.
With an average truck weighing about 14,000kg, the total weight of 30 stationary trucks on the Ojuelegba Bridge could be around 450,000kg. Mind you, this does not include the weight of other vehicles that travel on these bridges.
What this means is that the 4 bridges on Western Avenue -– Ijora, Stadium, Ojuelegba and Abati Barracks – pack a massive 1.53 million kg on an average day.
Does anyone need to inform us that these have a situation that is disaster waiting to happen?