Who Is Smarter And A Better Driver-These Dogs Or Human? – You Be The Judge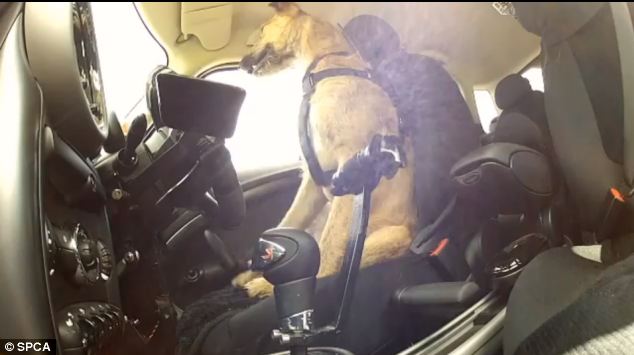 2012:The year 3 New Zealand dogs passed their driving test(and show they really CAN drive a car

Star performers Monty,a giant schnauzer;Ginny,a whippet cross;and Porter,an old beardie cross,were put through their paces in front of the nation on live television.
No,this isn't an April Fool's joke or some sort of wacky car commercial.
Back in 2012,Society for the Prevention of Cruelty to Animals,SPCA in Auckland(located in New Zealand)come up with an innovative way of proving that it's possible to teach a rescue animal new tricks.Monty,Porter and Ginny are all dogs rescued by the SPCA Auckland,and each was taught the ability to drive a Mini Countryman around a track.
After being strapped into the driver's seat,the dogs were able to use their paws to start the car,steer it,change gears and use the brake,which have been modified similar to a car setup for a special-needs driver.
The 3 dogs started their driving lessons by learning to steer a wooden cart pulled along on a string by their trainers.

After just eight weeks,they progressed to driving a real car,modified Mini in which they sat on their haunches in the driver's seat with their paws on the steering wheel.
Their feet go on extension levers which had been attached to the accelerator and the brake whilst their paw will rest on the gearstick.
Think it's a joke?Scroll down to watch four videos showing the dogs in action and another to see what mods were made to get the Mini ready for canine duty.

How they were thought-The driving lessons
Porter was found wandering the streets.
Ginny was abused by her owners and seized by the SPCA and Monty was surrendered by his owners to the rescue.
Animal trainer Mark Vette,who schooled the dogs, said:
'They are great dogs,each with their own distinct personality.
You wouldn't believe any dog could learn to drive a car on its own but we've proven through our understanding of animal psychology and our specialised training methods that intelligent creatures can adapt to the situation they're in.
http://www.dailymail.co.uk/sciencetech/article-2245771/New-Zealand-dogs-pass-driving-test-really-CAN-drive-car.html
https://www.autoblog.com/2012/12/12/new-zealand-spca-teaches-rescue-dogs-how-to-drive-a-mini/
See Related Post: 5 Women Who Made A Mark In The History Of Cars