SUZUKI Mobile Mechanic Workshop Launched In Nigeria By Boulos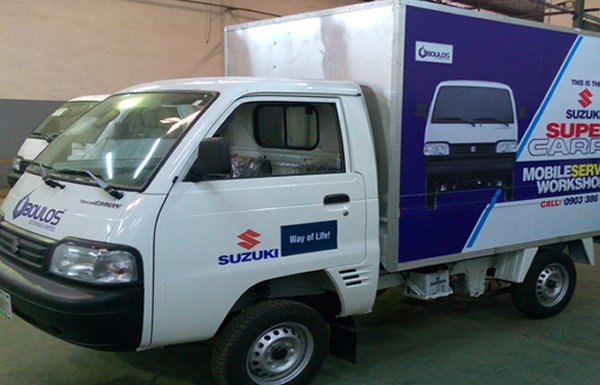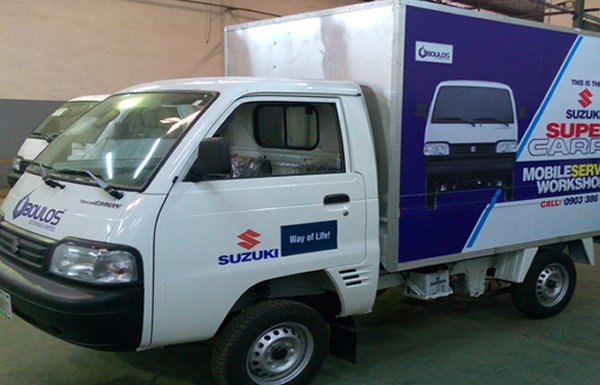 The new SUZUKI mobile workshop to service the Suzuki Super Carry vehicles was launched on 18th May. In a first for Nigeria it will enable the purchaser of the new Suzuki Super Carry to have their vehicles serviced on their doorstep or distribution centres. The Mobile Mechanics and Repair Suzuki (MMARS), is fully equipped with compressor, trolley jack, maintenance table, Suzuki specific tooling, torque wrenches, secure tooling cabinet and two Suzuki qualified technicians. It will initially be utilised in Lagos and surrounding areas.
Joseph Fayose national Sales Manager for Suzuki Nigeria said: "MMARS further reinforces our promise to maintain the lowest downtime for any commercial vehicle product in Nigeria. The Nigerian Suzuki Carry is assembled and manufactured by Nigerians for Nigerians, likewise the MMARS was designed and built here in Lagos, we are justifiably proud of it and know it will prove invaluable to companies and small business people who need their vehicles to be working 24 hours a day".
Titi Olodun, the Marketing Manager went on to explain that the Super Carry is the most tried and trusted 1 tonne van in the world, sold in 192 countries it was launched in 1961 and this is the 12th generation. It is also one of the most reliable in the world and here in Nigeria the launch price at Naira 4.3 million is two million less than any other competitor's vehicle.
The pick-up version will be available only to special order only. As the Van and Refrigerated units will be the best sellers. The engine of the vehicle is the tried and tested Suzuki 1.2 litre petrol, which is also fitted to the Suzuki Swift, Vitara, Splash, Baleno, Kizashi and many others. In fact, it is so reliable that other manufactures buy the engines from Suzuki for use in their vehicles. The suspension has been especially designed for Nigerian roads, raising the ride height to a level that allows the vehicle to tackle water impediments and settle on the trailing arms and leaf spring suspension without bottoming out.
The Super Carry is backed by a comprehensive warranty and dealer service representation across Nigeria. Additionally, Boulos stocks over $5 million spare parts at any one time, so there is never a worry for spare parts. This moment marks the continuation of more than 57 years of representation of SUZUKI in Nigeria by Boulos Enterprises.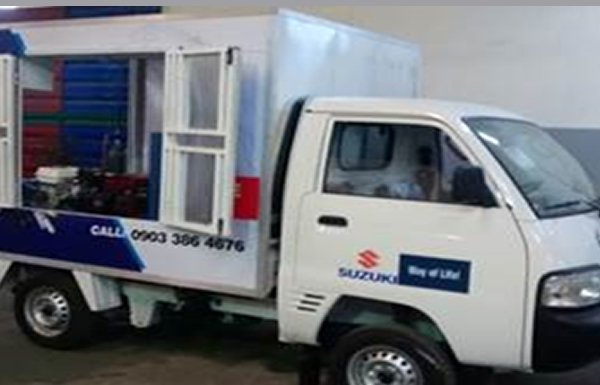 Titi Olodun, the Marketing Manager for Boulos Enterprises Ltd said:
"The assembly line is 1,132 square metres long, there is an additional 1,200 square metres where fabrication of a range of custom made bodies for the Suzuki are being manufactured, these include refrigerated units, vans, six seater people carriers, tippers, hoppers, pick-ups, mobile shops and many other body options. The new facilities will be equipped with state of the art modern manufacturing tools and equipment, with associated infrastructure built to the exacting standards of SUZUKI Japan. This venture not only protects the jobs of Nigerians, but has also sets in place a clear manufacturing base here in Lagos. We are truly honoured to have created the first ever 4-wheel vehicle assembly/production facility in Nigeria for SUZUKI.''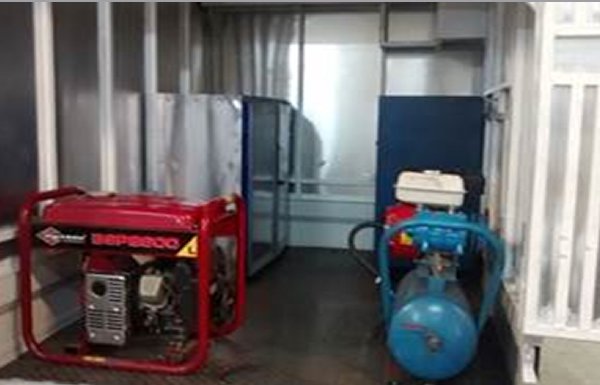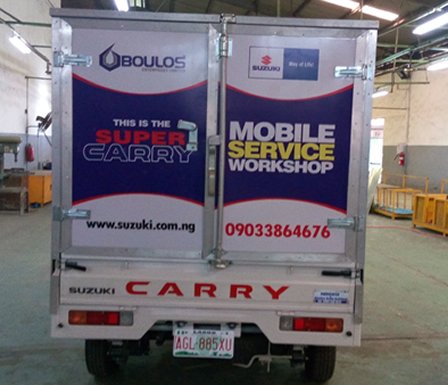 The Super Carry is initially launched with four bodies: VAN, HIGH TOP VAN, REFRIGERATED VAN AND the PICK-UP (special order only). As production increases the rest of the other 21 body options will be built and made available.
Further information on BOULOS:
Boulos Enterprises Limited (BEL) was incorporated in 1964 by the Boulos brothers Anthony and Gabriel Boulos. The initial trading business was started with Suzuki in 1959. The focus of their business initially, was trading and incorporation of general merchandise including some brands of motorcycles from Western Europe. After a few years, they concentrated on the importation of the "Suzuki" brand of motorcycles and outboard motors from Japan and since then it remained a leading motorcycle and outboard motors distribution and assembly company in Nigeria.
The continued growth in Suzuki motorcycle business stimulated the company to establish the first assembly plant in the country at Oregun, Ikeja Nigeria in 1969 existing till date to assembly motorcycles from Completely Knocked Down (CKD) to Fully built up (FBU) by Nigerian staff. It is worthy to note this was implemented at the initiative of the company as all other competitors in the country were still importing fully built up motorcycles.
The ban of fully built motorcycles gave the company the impetus to embark on a manufacturing/assembly plant. Considering the bright future of automobile business in Nigeria and the level of technology, the company embarked on the construction of a phased integrated motorcycles manufacturing complex located at its present 25-acre plot at Ogba Industrial Scheme Ikeja. The present integrated plant has an installed capacity of 150,000 units for motorcycles assembling per annum on a single 8-hours shift per working day. Additionally, Carry D700 AND p400 commercial tricycles are assembled at the factory/plant. Boulos also distribute Suzuki OBM marine engines from 9hp to 300hp, all of which are 4-stroke.
The Super Carry, motorcycle and tri-cycle plant assembling facilities has an independent service utilities backed up system. 0ver 320 full time Nigerian staff are employed.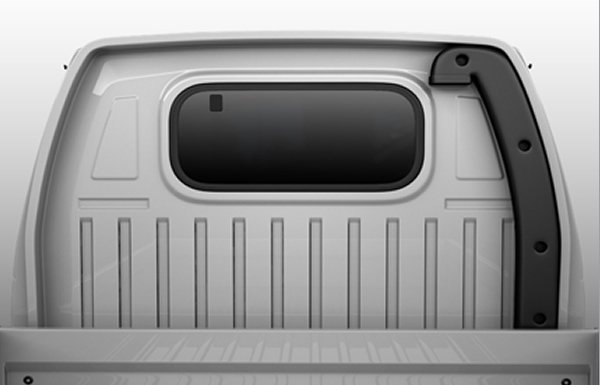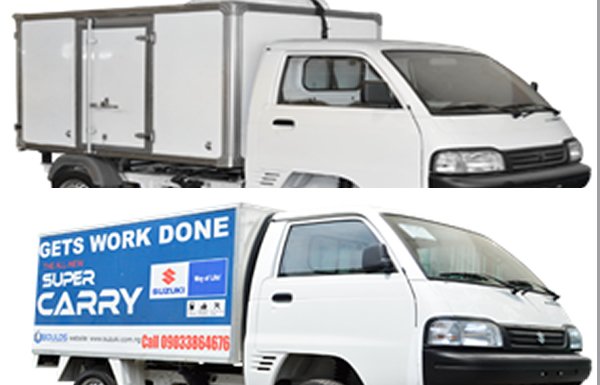 Suzuki has over 45,000 employees worldwide and 35 main production facilities in 23 countries and 133 distributors in 192 countries including Boulos in Nigeria, which makes the Boulos Ikeja, Lagos factory the oldest Suzuki production plant in the world outside of Japan. (something special!)