Very Rare Honda S2000 CR Sells For Mercedes-Benz Maybach S-Class Money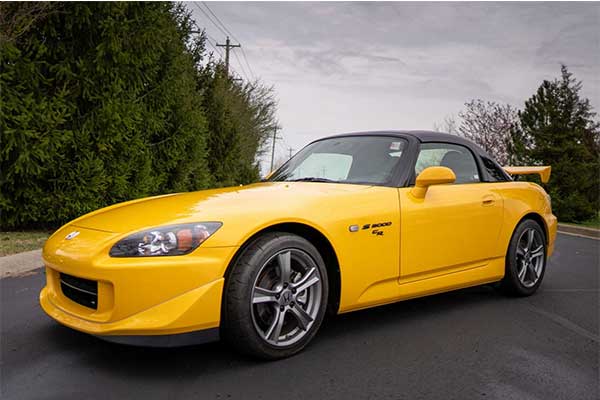 Honda S2000s are steadily appreciating in value, so when a clean example like this one pops up for sale on auction site Bring a Trailer, you know it's going to sell for big money. This one is an especially rare example because it's a limited-run CR (Club Racer) with ultra-low miles.
A total of 41 bidders tossed a hat into the ring, though it was a bidding war between two prospective buyers in the closing minutes that sent it to $200,000, that's more than a model Mercedes-Benz Maybach S-Class. Nico2015 won the battle with that final $200,000 bid, no doubt sending other S2000 owners into a frenzy as to whether they're carrying enough insurance coverage on their vehicle.
This one, finished in yellow over black Alcantara and cloth, has an astounding 123 miles on the clock, and it certainly looks the part. The body panels and roof piece look to be in perfect condition, and the interior is in great shape too. The engine bay and underside of the car look like they've never been touched by the outside world—not surprising considering this car has driven an average of 8.7 miles per year since its original delivery in 2008.
Various upgrades differentiate the S2000 CR from regular models. These include a stiffer suspension, stickier tires, a quicker steering rack, a removable hardtop, a rear wing, and an extended front splitter. The CR weighs 90 lbs (41 kg) less than a standard S2000 but retains the familiar 2.2-litre four-cylinder with 237 hp and 162 lb-ft (220 Nm) of torque.
Just 700 S2000 CRs were sold by Honda, making them incredibly hard to come by. They've gone from $30,000 cars to six-figure collectables in the past five years thanks to their rarity and suite of track-focused upgrades.