Brabus Goes Crazy With 900 Crawler G-Wagon Based Dune Buggy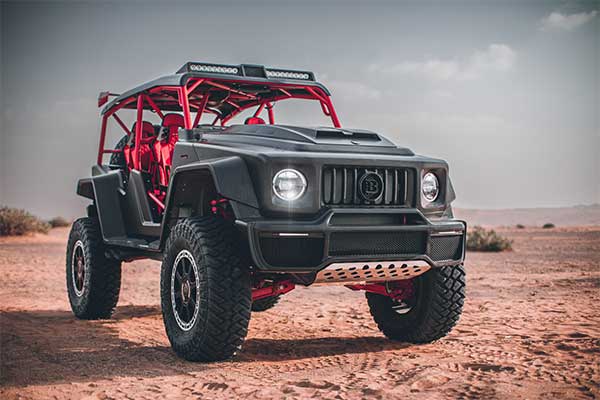 Brabus has gone against all odds to create the ultimate off-road machine that oozes so much power. Introducing the Brabus 900 Crawler which is a G-Wagon based dune buggy.
Essentially a hardcore buggy, the Brabus 900 Crawler is one the most spectacular G-Class-based project we have ever seen. It's right up there in terms of insanity with Mercedes' own G63 6×6 and the Maybach G650 Landaulet, but without a road-legal status.
Starting with the exterior, the Brabus Crawler shares visual elements with the Mercedes G-Class but actual components are limited to the LED lighting units. The bodywork is entirely new, made of high-grade carbon fibre and based on a bespoke ladder-frame chassis.
The Crawler has no doors or windows, leaving the interior fully exposed to the elements with a red-painted steel tube frame for extra safety. In typical Brabus fashion, it comes with wide fenders, sporty intakes, bonnet scoop, roof-mounted LEDs, boy-racer rear wing, and side-mounted exhaust pipes finished in matte black.
At its heart lies a twin-turbocharged V8 engine, producing 888 hp (900 ps) and a peak torque figure of 922 lb-ft (1,250 Nm). Add a permanent all-wheel-drive system and a nine-speed automatic gearbox, and this 4,553 lbs (2,065 kg) monster will accelerate you from zero to 62 mph (100 kph) in just 3.4 seconds.
Because of its heavy-duty off-road tires, the Crawler's top speed has been electronically limited to 100 mph (160 kph), which is probably fine for most buyers. The Crawler will be limited to just 15 cars and will deliver a third of them before the end of the year. Five more will be shipped in 2023 and the last five in 2024.  Each of the Brabus Crawler will cost approximately 749,000 euros ($793,000).