Brabus Goes Nuts With This 900Hp Mercedes-AMG E63s (Brabus 900)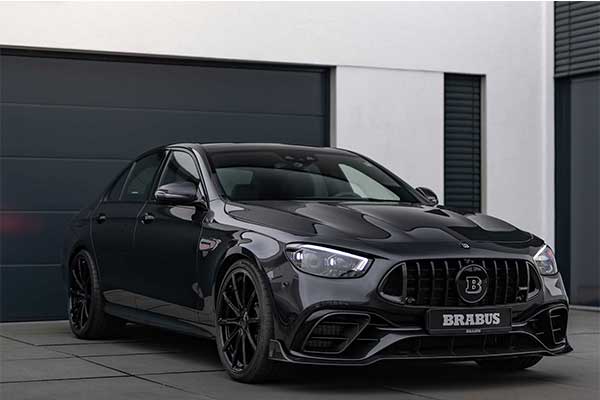 The Mercedes-AMG E 63 S 4Matic+ is one of the fastest and most exciting performance sedans money can buy, which sounds like bread and butter for tuners like Brabus. After launching the Brabus 800 last year, the German-tuner presented the even more powerful Brabus 900 as their flagship tuning kit for the E-Class.
Unlike the Brabus 800 which uses a 4.0-litre V8, the Brabus 900 has added extras 0.5- litres to make it a 4.5-litre. This is done by boring out the eight-cylinder block to 84 millimetres (3.3 inches). Brabus also installed larger pistons, a custom billet crankshaft, and eight bespoke piston rods to lengthen the stroke to 100 mm (3.9 in). On top of that, the tuner installed its own pair of turbochargers with a maximum boost pressure of 1.4 bar. The V8 now breathes through a new exhausts system fully made from stainless steel, while the modified intake improves air supply.
The end result of these modifications turns this machine into an impressive 888 hp (662 kW / 900 PS) and 1,250 Nm (922 lb-ft) of torque beast which is limited to 1,050 Nm (774 lb-ft). Brabus says it'll do 0-62 mph in 2.8 seconds on the way to a tire-limited top speed of 205. To keep all of that adhered to the ground required some aerodynamic modifications. Naturally, this gave Brabus carte blanche to break out the carbon fibre and go to town. The result is surprisingly well-integrated. Power is sent to all four wheels through a nine-speed automatic transmission and the 4Matic+ all-wheel-drive system.
To differentiate the 900 from the car it's based on, Brabus includes signature "B" badges, 21-inch Monoblock Z Platinum Edition forged wheels painted black, loads of carbon fibre inserts on the outside, and contrast red 900 badges on the flanks. Let's say if you parked the standard car and the Brabus side-by-side, you wouldn't have a hard time telling them apart.