Very Very Rare Mercedes-Benz SLR Stirling Moss Is Heading For Auction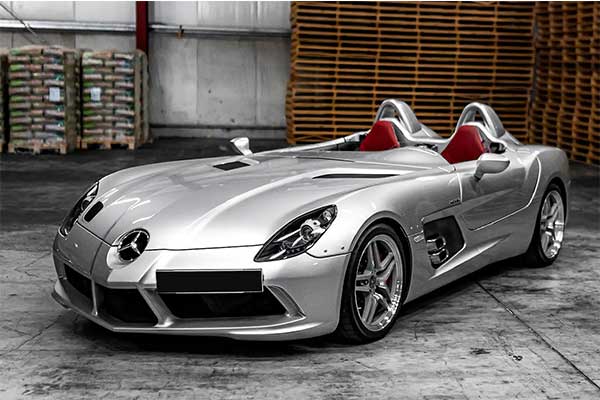 A super rare Mercedes-Benz SLR McLaren Stirling Moss is set to go under the hammer at an RM Sotheby's auction running from January 31st to February 8th in Paris France.
The car, bearing chassis number WDD1999761M900055, is one of 75 examples of the wild speedster built briefly in 2009, and according to the listing there's just 150 kilometers (approximately 93 miles) on the odometer. The car was originally delivered in Germany and has been with the same owner all this time.
Powering up this beauty is a supercharged 5.5-liter V8 engine with 641 horsepower and 604 lb-ft of torque. Weighing in at just over 3,400 lbs, the Stirling Moss was relatively lightweight and could rocket to 62 mph in 3.5 seconds. A top speed of 220 mph was also offered, but you might want to put on a pair of good-quality goggles before attempting that.
Practically all comfortable aspects of the SLR Stirling Moss were jettisoned or tweaked in the pursuit of performance, aesthetics, and extreme driver (and passenger) enjoyment. This even included the windshield and roof, ramping up the intensity of the driving experience tenfold.
RM Sotheby's estimates a final bid of between 3 million and 4 million euros (approximately $3.26 million and $4.35 million). Another example with the same exterior and interior color combination was auctioned by RM Sotheby's in 2020 but failed to sell after its final bid reached 1.4 million euros ($1.52 million).