Watch Volvo XC60 Crash Test As It Is Crowned The 2017 Overall Safest Car By Euro NCAP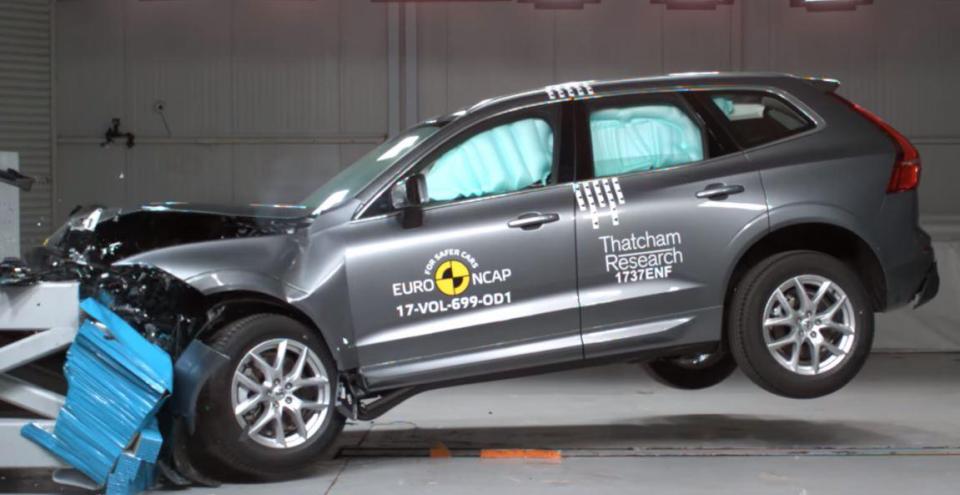 With almost 70 cars tested, 2017 was by far the busiest year for the European New Car Assessment Programme(NCAP). One model managed to stand out from the pack and that was the second-generation XC60, which was crowned as the safest car overall.
The XC60 scored a near-perfect 98 per cent in the adult occupant category and in its large off-road class, showed a clear advantage in safety assist with a score of 95 per cent,20 percentage points higher than the nearest large off-road competitor and the 87 per cent for child protection was one of the highest on record.
The £35,000 car is one of the safest Volvo cars ever made.It is fully loaded with new technology designed to assist drivers, to help protect vehicle occupants and other road users, such as pedestrians and cyclists, plus mitigate collision risks.
The Euro NCAP award for the XC60 follows in the tracks of Volvo Cars XC90, which in 2015 was also named the best performing large off-roader, and the car with the best overall performance that year. Volvo Cars' V40 is another previous Euro NCAP winner, in the Small Family class.
The XC60 also joins the S90 and V90 in making history for Volvo Cars as the first manufacturer to hold all top three car rankings in Euro NCAP's Autonomous Emergency Braking (AEB) tests -AEB City, AEB Inter-Urban and AEB Pedestrian. The three Volvo cars are the only cars to have achieved perfect scores in all three AEB categories.
Volvo has always had a strong reputation for safety, and this has continued under its current Chinese ownership. Test drivers praise its powerful engines with good fuel economy. Its base engine is rated for 19 MPG city, 23 highway.