When We Thought It Was Over, We Discover That The Poster War Is About To Begin (See PHOTOS)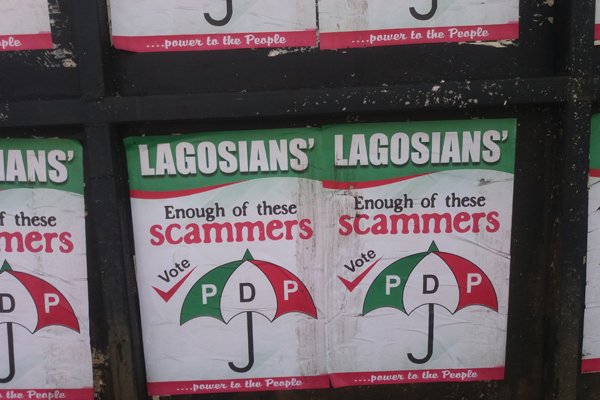 Recently,  all around Nigeria, every street surface were overwhelmed by political campaign posters. This was prior to and after the primary elections to elect candidates for the different political parties.
Lagos state was by no means different.
Posters from different politicians from different political persuasions were screaming for attention.
However, the most dominant ones were posters of politicians of the stock of the All Progressive Congress (APC). Campaign posters of the incumbent Governor and his closest competition, Sanwo-Olu, were the most prominent.
Indeed, it was a poster galore.
After some media outcry about the nuisance that the posters had become on the street, LASAA went to work. They started a campaign to rid the various street surfaces of these posters especially on major roads and expressways.
Interestingly, newer posters are emerging. And as to be expected, especially  as the election approaches, more posters are anticipated to  flood the streets.
And just when we are celebrating the fact that LASAA has started clearing the street surfaces of these posters, suddenly the opposition PDP decides to commence their campaigns.
Note that, in 2006, the Lagos state government enacted the Lagos State Signage and Advertisement Agency (LASAA) Law.
This law was designed to prevent and punish the act of defacing street surfaces by residents.
The offence of posting posters on street surfaces contravened Section 168 of the Criminal Law of Lagos State, 2015 (Revised). The section prescribes a six months imprisonment or a fine of N90,000 for offenders."
See some posters spotted on the streets of Lagos today.