10 SUVs With The Highest Towing Capacity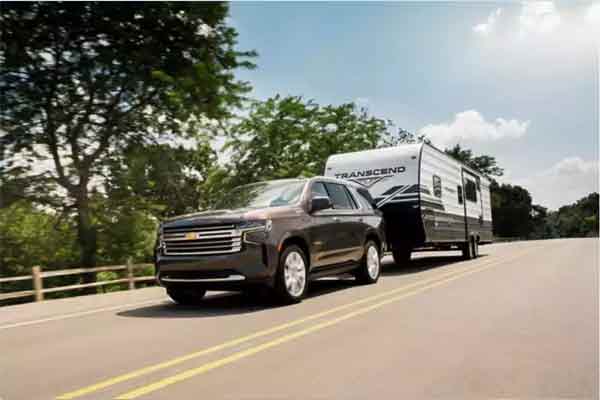 It's no secret that many SUVs have lost their truck-like capability. For the last two decades, automakers have been moving away from truck-based, body-on-frame designs, because consumers want a more comfortable ride and better use of space. But these new car-based SUVs, or "crossovers," aren't always up to the task of towing.
As driving becomes the preferred way to travel this year, SUVs that can haul the entire family and tow the outdoor toys are in high demand. Anyone with serious towing requirements knows pickup trucks can pull the most, with many full-size models posting maximum tow ratings beyond 10,000 pounds. But pickups lack abundant occupant capacity — so if you need to carry lots of people and tow a heavy trailer, an SUV is your best bet.
Which models have the highest capacity?
We ranked the top 10 best SUVs for towing for 2021 by advertised maximum trailer ratings, using minimum trailer ratings and lower base price, in that order, as tiebreakers where necessary.
Note, all capacities on our list should be comparable because all 10 SUVs are rated using SAE International's J2807 methodology — which stipulates a battery of tests with two occupants aboard, among other things — for apples-to-apples specs. That hasn't been the case in years past.
10. Land Rover Discovery –

8,200 pounds
9. Land Rover Defender –

8,201 pounds
8. Cadillac Escalade, Escalade ESV –

8,200 pounds/8,100 pounds
7. GMC Yukon, Yukon XL –

8,400 pounds/8,300 pounds
6. Chevrolet Tahoe, Suburban –

8,400 pounds/8,300 pounds
5. Infiniti QX80 –

8,500 pounds
4. Nissan Armada –

8,500 pounds
3. Lincoln Navigator, Navigator L –

8,700 pounds
2. Dodge Durango SRT, R/T –

8,700 pounds
1. Ford Expedition, Expedition Max –

9,300 pounds
Top 10 SUVs for Towing Capacity
Ford Expedition: 9,300 pounds
Dodge Durango SRT, R/T: 8,700 pounds
Lincoln Navigator: 8,700 pounds
Nissan Armada: 8,500 pounds
Infiniti QX80: 8,500 pounds
Chevrolet Tahoe, Chevy Suburban: 8,400 pounds/8,300 pounds
GMC Yukon,Yukon XL: 8,400 pounds/8,300 pounds
Cadillac Escalade, Escalade ESV: 8,200 pounds/8,100 pounds
Land Rover Defender: 8,201 pounds
Land Rover Discovery: 8,200 pounds