1,000 Vehicles Trapped In Kaduna As Youths Barricade Road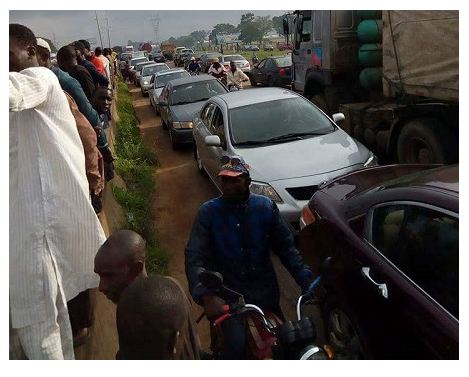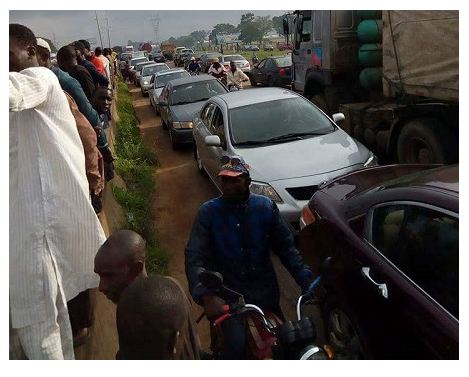 Over a thousand vehicles and hundreds of commuters were trapped in the busy Kaduna /Kano Highway when youths of Barakallahu under Igabi Local government area of Kaduna State barricaded the road in the early hours of Monday morning.
An eyewitness said that the aggrieved youths blocked the highway as early as 7 am thereby preventing commuters travelling to Abuja and other Northern states to travel.
One of the protesting youths who refused to disclosed his name under the condition of anonymity remarked that they blocked the road in order to express their anger over the alleged seizure of their lands by the Nigerian Air Force.
It will be recalled that the residents of Barakallahu and the Airforce had been engaged in a land tussle for a decade with each of them claiming ownership of the said land.
A commuter Anas Anka who was trapped for three hours said he's travelling to Abuja to meet up an official engagement expressing his worries he might not meet up with the appointment.
He called for a truce between the residents of the area and the Airforce so as to avoid future occurrence, saying, as you can see the commuters travelling on this road are at the receiving end.
Even, though, there was no official response from the Airforce as at the time of filing this report, the combination of the police and other security agencies were on them to ensure the safety of the commuters.
When contacted the spokesman of the Nigerian police in the state, DSP Muktar Aliyu remarked that the road is cleared for commuters.
He said, 'We have brought the situation under control and commuters plying the road are now going to their respective destinations.
He also said the police will investigate why the youths would take the laws into their hands.
Credit: Nigerian Tribune.