13 Interesting Facts About Supercars And Sportscars That Most People Might Not Know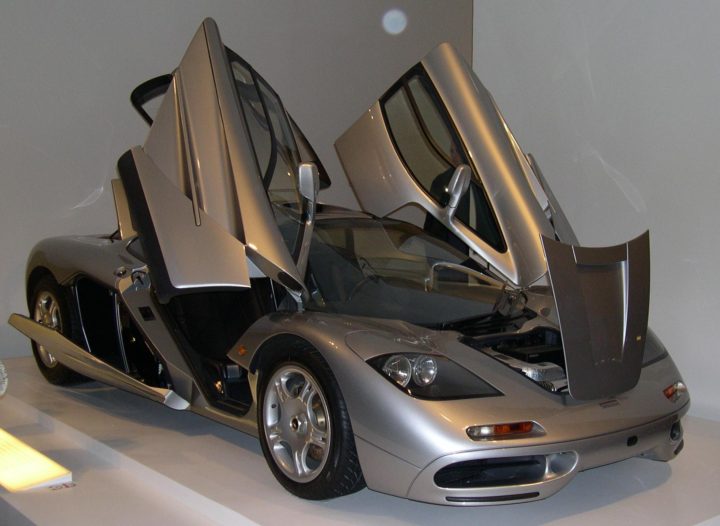 1)There are two bizarre 6 wheeled supercars: the Panther Six(2 produced in 1977-78) and the Covini C6W(produced in 2004-present).
Covini C6W
https://en.m.wikipedia.org/wiki/Panther_6
https://en.m.wikipedia.org/wiki/Covini_C6W
2)A normal car has one radiator while a Bugatti Veyron has a total of ten radiators strategically placed throughout the body due to the heat generated by its massive sixteen cylinder quad-turbo engine.To cool such an engine with a single radiator would require it to be about the size of a pool table.
It has:
3 heat exchangers for the air-to-liquid intercoolers.
3 engine radiators.
1 for the air conditioning system.
1 transmission oil radiator.
1 differential oil radiator.
1 engine oil radiator
3)Volkswagen are the supercar kings:
Volkswagen owns Bentley,Bugatti, Lamborghini, Audi, Ducati and Porsche.
4)Koenigsegg Agera R's Weaver:
The Agera R's top speed is limited by a speed limiter, which can be removed if the owner signs a waiver.
5)The Most Expensive supercar for sale at $4.5 million.

That means you can buy 20 Rolls Royces for the price of one Lamborghini Veneno.
6)TVR Cerbera Speed 12-The Unusable Supercar:
The TVR cerbera Speed 12 was so powerful that it was deemed simply incapable of being used as a road car,forcing TVR executives to abandon its development.
https://en.m.wikipedia.org/wiki/TVR_Cerbera_Speed_12
7)Pagani Huayra:

The Pagani Huayra use 1,400 titanium bolts at $80 each, resulting in a cost of $112,000 for the bolts alone. Mr. Pagani has pioneered new techniques for titanium machining, and his grade-7 hardware has his logo etched into the bolt heads.
8)Ferruccio Lamborghini and Enzo Ferrari rivalry:
Ferruccio Lamborghini always had problems with his Ferrari's clutch.He disassembled it when Enzo Ferrari wouldn't listen to his criticism, improved its design and ended up creating the epic Lamborghini supercar.
https://en.m.wikipedia.org/wiki/Ferruccio_Lamborghini

9)Lamborghini's Gallardo and Audi's R8 are cousins:
They share the same chassis and interior layout,the differences are mostly cosmetic.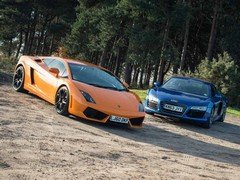 AUDI R8 COUPE 5.2 FSI QUATTRO
Engine: 5,204cc V10
Power (hp): [email protected],000rpm
Torque (lb ft): [email protected],500rpm
Transmission: 6-speed manual(7-speed S-Tronic dual-clutch optional)
Kerbweight: 1,645kg,Top speed:195mph
LAMBORGHINI GALLARDO LP 560-4 COUPE
Engine: 5,204cc V10
Power (hp): [email protected],000rpm
Torque (lb ft): [email protected],500rpm
Transmission: 6-speed manual(six-speed e-Gear automated manual optional)
Kerbweight: 1,410kg,Top speed:202mph
10)Butterfly doors:
The reason why most of the high-end cars have butterfly doors is if in case the car turns upside down, the doors will blow from the small explosives and driver and easily jump off the car.

See Related Post: 15 Interesting Facts About Armoured Vehicles That Most People Might Not Know
11)One can easily spot many supercars in Dubai. Dubai police uses cars like Lamborghini, Ferrari and Bentleys to catch the speeding luxury cars there.
12)Lamborghini's logo consists the image of a bull. Most of the models of the Lamborghini are named after the famous fighting bulls like Diablo and Murcielago.
13)Jai Singh, the Maharaja of Alwar once visited Roll's Royce's showroom in England to buy a Rolls Royce. The salesman at the showroom shooed him away because he thought that Jai Singh cannot afford it.
Singh bought ten Rolls-Royce and sent them to India to pick up garbage. This fact is the another facts about supercars.