2 Major Things To Consider When Replacing Your Car Tyre
Choosing the right type of tyres for your automobile requires a lot of consideration. This could go on to become a major problem for the inexperienced drivers who have no idea of what to look for when replacing their car tyres. At a point, every driver will be faced with replacing the tyres of their vehicle, be it a new or used one. And the only way a vehicle will run smoothly is if it has the perfect tyres.
So how do you avoid this problem? In this article, I will be revealing to you the important factors to consider when faced with the problem of replacing car tires.
Know your Tyre type.
Every vehicle has a particular type it uses for a smooth performance, but most importantly, it's required that every driver knows the best type that produces the best performance on any type of road. The available tyres today include:
SUV TYRES
PERFORMANCE TYRES
MUD TIRES
ALL-TERRAIN TYRES
TRUCK TYRES
OFF-ROAD TYRES
LOW TIRES
ALL-SEASON TIRES.
Each of the listed tyres is specially designed to adapt to the type of road, climate, or season conditions. Meaning they have one advantage over the other.
E.g. Performance tyres have soft rubber composition and stiff sidewalls and are great for overall grip, traction, and maneuverability.
Run-flat tyres have much thicker, reinforced sidewalls which means they can be driven on for a short time after a puncture.
Know your tyre specifications
This is very easy to learn. All you just need to know when replacing your tyres is by looking at the code located at the sidewall of the tyre. The picture below explains it all.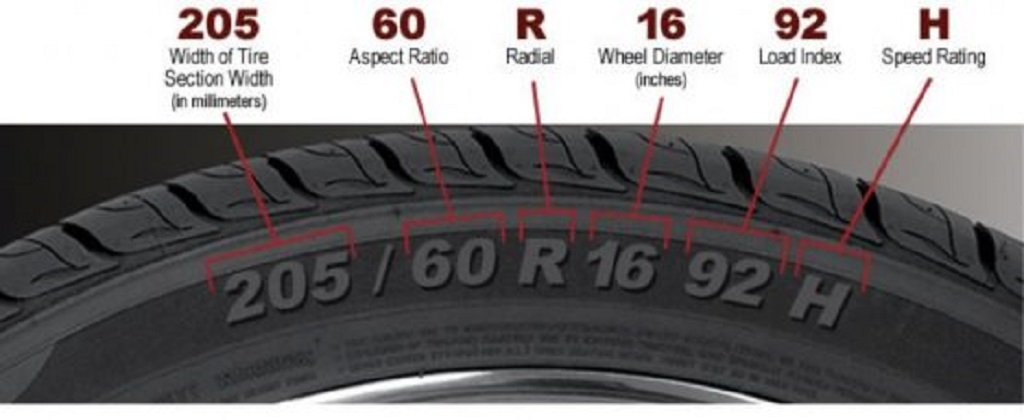 Heres another sample code:
P205/60R16 92H
P – Type of tire
205 – Width across the tread in millimeters
60 – Aspect ratio of the sidewall compared to the width (height of the sidewall)
R – Radial construction.. This means the threads of the tyre runs from one side of the wheel to the other.
16 – Diameter of the rim (inches)
92 – Load index.. how much weight each tyre is designed to support.
H – Speed rating.. works out what is the maximum speed your tyre is capable of maintaining.
WARNING:
Stick with your tyre specification.
Goodluck.