20 States Seek N791bn Refund Spent On Works On Federal Roads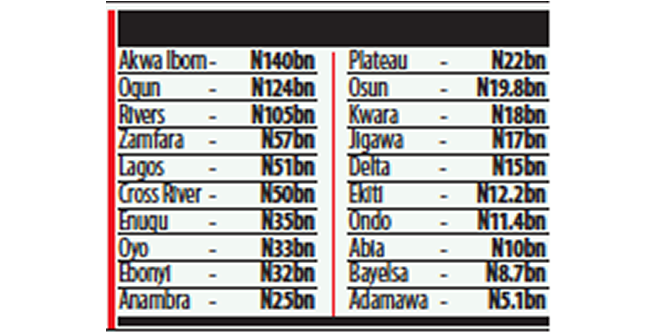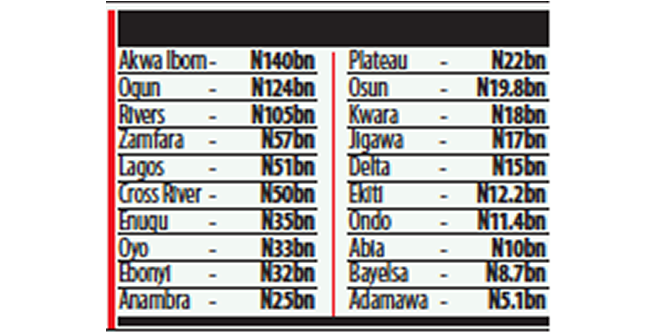 Not less than 20 states in Nigeria are currently seeking financial refund incurred on behalf of Federal Government for infrastructure project developments, especially federal road repairs in their territories.
According to New Telegraph's investigation, about 20 states, whose claims have been verified in the last one year, are mounting pressure on federal authorities to pay them N791.2 billion spent on road repairs.
Further findings showed that the debt had lingered for almost three years despite various verification exercises carried out and assurance.
Some of the states include
Akwa Ibom – N140 billion;
Ogun – N124 billion;
Lagos – N51 bil lion;
Oyo –N33 billion;
Enugu – N35 billion;
Osun – N19.8 billion;
Plateau – N22 billion;
Adamawa – N5.1 billion;
and Ebonyi–N32 billion.
Others are Delta – N15 billion;
Zamfara – N57 billion;
Ekiti – N12.2 billion;
Anambra – N25 billion;
Ondo – N11.4 billion;
Rivers – N105 billion;
Jigawa – N17 billion;
Kwara – N18 billion;
Abia – N10 billion;
Cross River – N50 billion
and Bayelsa – N8.7 billion.
Recently, the Governor of Cross River State, Mr. Ben Ayade, lamented the refusal of the Federal Government to refund over N50 billion, which the state government spent in rehabilitating many federal roads in the state.
The governor stated this when he inspected a 15km road rehabilitation of the Tinapa-Odukpani federal highway. Ayade said the state had earlier spent N25 billion, adding that with the ongoing rehabilitation, the expenditure on road repairs on behalf of the Federal Government would rise beyond N50 billion.
In Plateau State, Governor Simon Lalong said that one of the requests he put before President Muhammadu Buhari when he visited was the refund of N22 billion spent on federal roads.
"The president granted our request and, within two weeks, it was processed by the Federal Ministries of Works, Finance and it was captured in the 2018 Budget, which has been passed, but now we are waiting for payment from the Ministry of Finance," he said.
In Delta State, Governor Ifeanyi Okowa also charged the Federal Government on sustainable road maintenance and called for the payment of money spent in rehabilitating and reconstructing failed federal roads across the state.
According to the state Commissioner for Works, Olorogun James Aguoye, the indebtedness has accumulated to over N15 billion, accusing the federal authority of undue delay in making necessary refunds to the state government.
He said the state had awarded eight-length of federal roads, running to 149.01 kilometres, out of which two had been completed while six are ongoing.
Governor Ibikunle Amosun of Ogun said his state was expecting a refund of N124 billion expended on rehabilitation and reconstruction of federal roads in the state.
Amosun told the Minister of Power, Works and Housing, Mr. Babatunde Fashola, when the latter paid him a courtesy visit recently in Abeokuta that the state had, so far, expended about N223 billion on federal roads.
Oyo State Governor, Senator Abiola Ajimobi, had also appealed to the Federal Government to consider payment of outstanding N33 billion spent on federal roads in the state.
Ajimobi, who made the call during an official visit by the Minister of State for Power, Works and Housing II, Hassan Zarma, to his office, said he spent his first four years in office executing massive road projects across the state.
Represented by the Secretary to the State Government, Olalekan Ali, the governor said: "We plead to use your good office to credit us N33 billion we spent on federal road projects in the first four years of this administration."
Also, in Osun State, Governor Rauf Aregbesola called on the Federal Government to offset N19.9 billion used to execute road projects in the state.
Commissioner for Works and Transport, Kazeem Salami, stated that the total sum of money for the execution of federal road projects in the state was N48.9 billion, saying that N19.8 billion out of the money being claimed to be paid back to the state government coffer was the certified amount spent so far on the projects.
Reacting, the Federal Director of Works, South-West, Mr. Lekan Busari, an engineer, told New Telegraph in a telephone chat that it was true that the Federal Government owed some states, which legitimately executed works on federal roads.
For any state to embark on repairs of federal roads legitimately, he said there were laid down criteria and procedures for such intervention.
According to Busari, the Federal Government had taken cognisance of this and has started the process of refund, adding that some states have been paid, while others that have not been paid have their names on the list of those to be paid.
While speaking to journalists in Abakaliki, Ebonyi State recently, Fashola urged governors across the country to desist from intervening on federal roads and other Federal Government projects within their axis without approval.
According to him, the Federal Government wants to first clear as much debts as possible, which was accumulated by the previous governments.
He said by law, the Federal Government supervised all federal highways, adding that "anybody who wants to intervene on federal road must ask us for intervention. If you don't do this, you have broken the law because you cannot break the law in order to do good.
Yes, we understand that citizens need roads, but you can't do evil in order to do good, it is just unacceptable. You must apply to us and we must see the standard and we must notify the president and council."
He hinted that his ministry had verified some claims that meet the standard of the Federal Government.
Credit: New Telegraph