2018 Bentley Bentayga V8 Revealed With 542bhp 4.0-litre Petrol Engine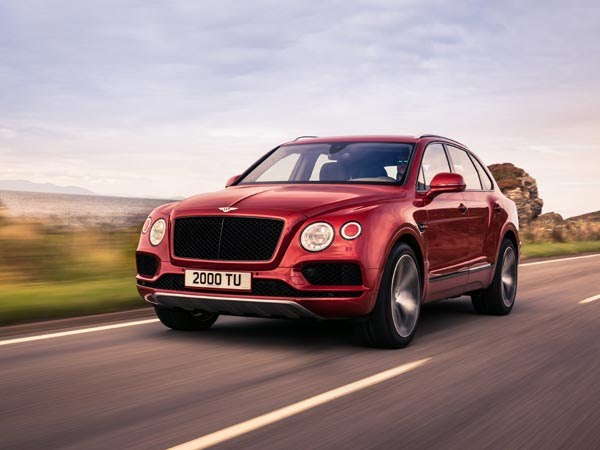 Bentley has revealed the Bentayga V8, the petrol-engine equal to the Bentayga Diesel, sitting below the W12-engined model.
The V8 sits almost directly between the two existing Bentayga variants. The 4.0-litre V8 makes 542bhp and 568lb ft, affording a 0-62mph of 4.5sec. This unit is shared with the Porsche Panamera Turbo and also set to feature in the new Bentley Continental GT.
The Bentayga V8's top speed is 180mph, which is 12mph higher than the diesel and 7mph down on the W12. Despite the performance sitting between the two variants, the price of the V8 petrol Bentayga is £136,200 just £400 more than the diesel.
The Bentayga V8's 2395kg weight to the Diesel's 2506kg and the W12's 2440kg means that efficiency is up, too, with stop-start technology contributing to claimed average fuel economy of 24.8mpg and CO2 emissions of 260g/km to the other cars' respective 35.8mpg and 210g/km and 21.6mpg and 296g/km.
Another fuel-saving measure is the V8's cylinder shut-off technology, which effectively makes it a four-cylinder motor in certain circumstances.
Externally, the new model is largely unchanged from the full-fat W12 Bentayga. There's a new 22in alloy wheel design, too, and the V8 gets altered front grille and tail-pipe designs.
Brakes can also be optionally uprated, with the carbon-ceramic set-up taking the title of the world's largest front brakes on any production model, with 440mm (17.3in) discs at the front. The rears are 370mm (14.6in) units, and together, Bentley claims, they combine for 4425lb ft of stopping force.
Inside the new Bentayger includes new styling features such as wood and hide steering wheel and the introduction of a high-gloss carbon-fiber interior panel finish.
Three innovative interior options are offered in the bentayga V8: a high-gloss carbon-fiber finish replacing traditional veneer surfaces; a wood and hide steering wheel; and a rich red leather, cricket ball. These features will be rolled out across the Bentayga range after being launched on the V8.
The Bentayga V8 will be delivered to customers from the end of March. It won't be the smallest-capacity variant for long, however. An hybrid Bentayga with the same 410bhp 3.0-litre petrol V6 plug-in hybrid powertrain as the Porsche Cayenne S E-Hybrid is due later this year.