2018 Lamborghini Huracan Performante Spyder To Be Unveiled At Next Week's Geneva Motor Show (Video & photos)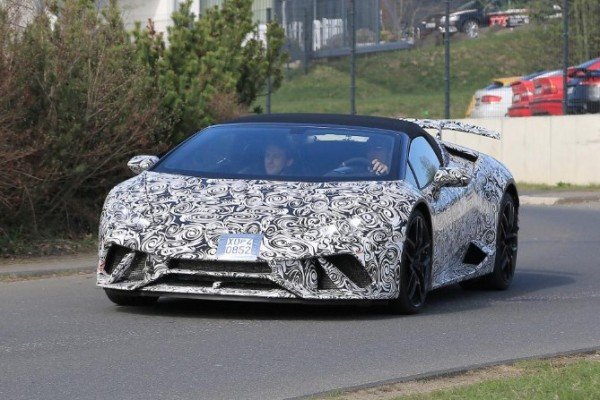 Lamborghini has the intention to to unveil its drop-top Huracan Performante at the Geneva Motor Show next week. This has been revealed in a new teaser video they dropped lately.
The spy shots also gave us a much clearer view of the impressive aero package, with aerodynamic efficiency and active aero delivering huge performance gains. This goes a long way to explaining how the coupe-version of the 5.2-litre, V10 powered, 631bhp supercar became the production vehicle Nurburgring lap record holder before being ousted by the NextEV NIO EP9.
The Huracan Performante Spyder will probably be a little slower on track – its fabric hood will likely increase drag, while further chassis strengthening to compensate for the lack of a fixed roof will increase weight. However, it shouldn't lag too far behind the 2.9-second 0-62mph dash and 202mph top speed of its coupe sibling.
It will cost more though – a premium over the £210,000 price of the coupe should mean the Huracan Performante Spyder costs around £230,000 when it goes on sale later this year.