2023 BMW M2 Prototype Caught Testing At The Salzburging Race Track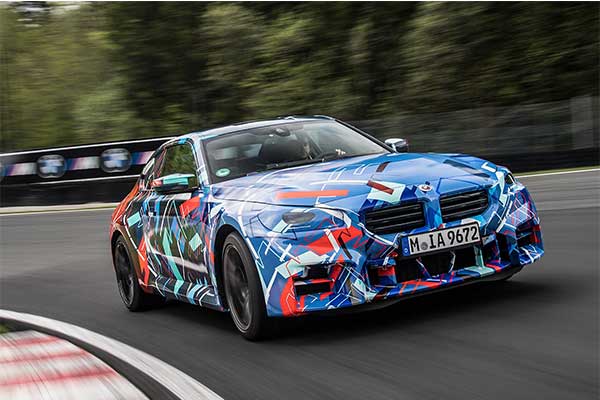 BMW has officially started the countdown until the world premiere of what will be the last M car to do away with electrification. Indeed, the M2 G87 will go down in history as the final ICE-only model to carry the "world's most powerful letter." The German premium brand has been teasing the new M2 for a while and now we're being told the wraps will come off in October. The sports coupe is scheduled to hit the market in April 2023.
The M2 shown is a prototype, as the development of the car is not yet complete. The final tests are now taking place, including at Austria's Salzburgring. The new M2 is based on the redesigned 2-Series coupe launched last year, but when it arrives it will sport a newly designed digital dash featuring a pair of conjoined floating screens instead of a traditional hood over the instrument cluster and a separate screen for the infotainment hub with Drive 8 feature as standard. The digital dash is also set for the regular 2-Series coupe.
On power, there's more than enough to keep the M2 pulling hard, since it uses the fantastic 3.0-litre twin-turbo i6 from the M3 and M4. BMW has yet to confirm the M2's official power specs, but in the M4, this engine puts out 473 horsepower and 406 pound-feet of torque. That's a 68-hp bump over the current M2 Competition but an equal amount of torque. It's also a modest increase over the 444-hp M2 CS. Transmission options are confirmed to include a 6-speed manual and 8-speed automatic, with drive going to the rear wheels only.
BMW mentions the revamped M2 will deliver just about the same level of performance as the old M2 CS. It will inherit the braking system from the M4 and will be offered a carbon fibre roof to shave off weight. At an additional cost, carbon-fibre bucket seats at the front will enhance the sporty ambience inside the cabin.