This 8-Wheel Shaman-M ATV Is The Toughest And Most Equipped Ambulance Ever
This 8-wheel drive Avtoros Shaman-M ATV ambulance is designed for reaching stricken people in hard to reach places.
The ATV is inspired by Russia's harsh environments like the snow, swamps, steep terrains and deep waters.
Each of the eight wheels on this huge beast can drive and steer independently.
Remember the Avtoros Shaman All-terrain vehicle (ATV) ? I mean the 8-wheel drive monster that was designed to tackle any terrain known to mankind, from land to snow and even cruise easily through water.
When the Shaman ATV was first shown to the public few year ago, the Russian automaker, Avtoros, said :
"The Shaman will suit everyone from hunters to first aid crews to mineral resource explorers,"
Now, Avtoros has revealed a version it calls the Shaman-M ATV that is suitable for emergency services.
The "all-Terrain ambulance", developed alongside Russian company, LLC "PC Sadr", is designed for reaching stricken people in hard to reach places.
Thanks to the large internal volume of the all-terrain vehicle, the passenger compartment can accommodate up to four medical specialists and two patients.
Features inside includes AC, heating and ventilation systems; Seats; armchairs; bench-chest with special safety belts; Medical cabinets as well as fire extinguishers.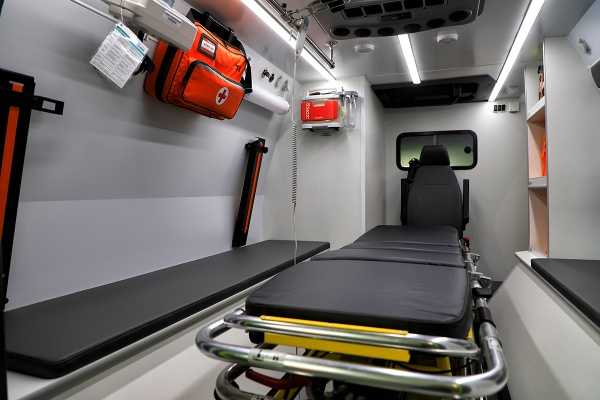 Equipment in this mobile hospital includes Monitor defibrillator; Electrocardiograph with 3 channel; automatic mode; Portable ventilators; Electric vacuum pump with bacterial filter and Syringe infusion pump.
It also comes with equipments likes Hydraulic patient transport trolley; Electromechanical stretcher support; Immobilization rescue spine board; Folding stretcher; Thermal heating blanket; as well as Emergency bags and medical sets.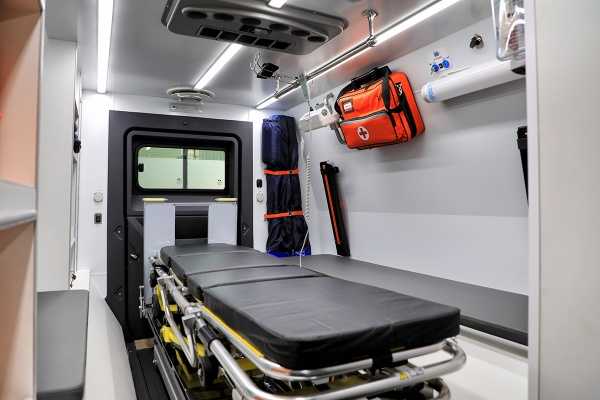 Just like the ATV it is based on, the 8-wheel Shaman-M ambulance is 6.3-meters long and 2.5-meters wide. That's about the size of two Range Rovers SUV's and dwarfs the Mercedes-Benz G63 AMG 6×6's six wheels.
This massive ATV has 3 different steering systems, including the On-Road, Off-Road and Crab Mode.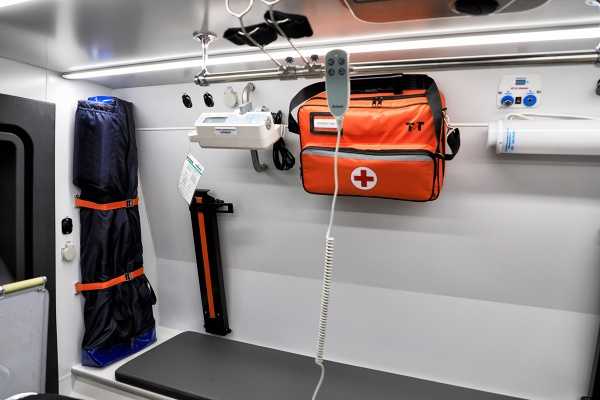 This allows the driver (who sits in the center just like Mclaren F1) to switch between On-Road, using the front 4-wheel drive; Off-Road, with active rear wheel steering; and Crab Mode, which turns all 8 wheels to move sideways.
The 146 horsepower beast is powered by 3.0-liter six-cylinder Iveco turbo diesel engine. It also consumes about 25 liters of diesel fuel in every 100 km cruise.
Avtoros hasn't reveal the pricing for the ambulance ATV, but the base Shaman 8 has a starting price of ₦59.6 m (US$155,000), excluding destination and clearing charges in Nigeria.