A Funeral Truck With Ad 'Don't Get Vaccinated' Urges People To Get Vaccinated
A funeral truck in North Carolina with the slogan 'don't get vaccinated' gives stark message to the unvaccinated.
The message is an Ad agency's pro-vaccination stunt to drive up vaccination rates in North Carolina
49% of the vaccine-eligible population has been fully vaccinated in North Carolina.
Statistic reveals that "99% of people who are ending up in the hospital and dying are unvaccinated"
Earlier this week, a large funeral truck bearing an advertisement "don't get vaccinated" was deployed to roam North Carolina to remind motorists and pedestrians about the importance of taking Covid-19 vaccines.
The Wilmore Funeral Home truck, which bores the stark message to the unvaccinated, was spotted
near North Carolina's Bank of America Stadium on Sunday.
The website listed on the truck has one message: "Get vaccinated now. If not, see you soon" and the only link available on the page leads to StarMed Healthcare, where people can get the COVID-19 vaccine.
According to reports, the Wilmore Funeral Home does not exist. But the mobile billboard's message is an advertising stunt by Boone Oakley, an ad agency in Charlotte, to drive up vaccination rates in the state.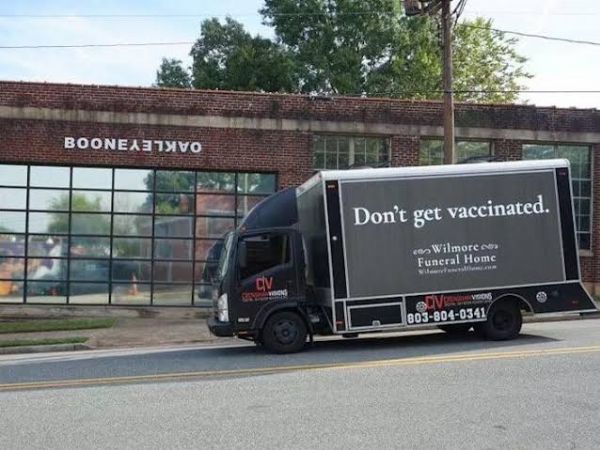 The New York Times' COVID-19 vaccine tracker indicates that about 49% of vaccine-eligible people in North Carolina are fully Vaccinated. The state is also recording a steady uptick in COVID-19 infections.
Speaking to Newsweek, the Ad agency's president, David Oakley, said he used the advertisement to push people to get vaccinated.
Oakley said that "almost everyone" at the ad agency got vaccinated at StarMed. He added that the agency purchased a mobile billboard from the digital-outdoor-advertising company, Crenshaw Visions, to promote the center and its vaccination drive.
"A lot of pro-vaccine advertising is very straightforward. We thought, 'Is there a way to turn it around and do it from a different perspective?'"
StarMed Healthcare's chief medical officer, Dr. Arin Piramzadian, told The Charlotte Observer that StarMed did not pay for any part of the marketing stunt, but he expressed his support for it.
"If this saves one person's life by getting vaccinated, I'm 100% for it,"
"We know that 99% of people who are ending up in the hospital and dying are unvaccinated,"
"If that statistic does not scare people, I'm not sure what does. Perhaps a dark humor aspect such as this one does catch someone's attention."