A 2003 Honda Accord Coupe Just Crossed The One Million Mile Mark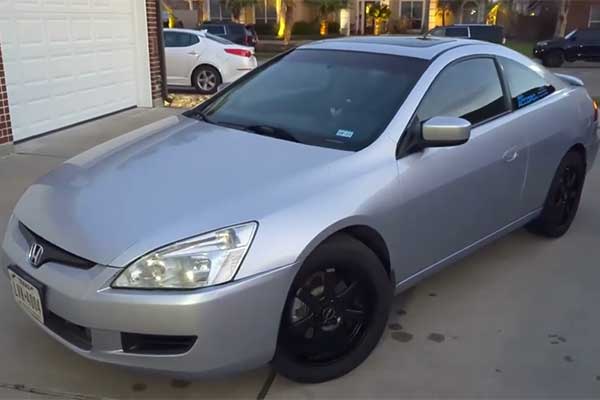 A 2003 Honda Accord coupe owned by Justin Kilmer is the latest to join the one million mile club. The big moment when the odometer flipped over to zeros happened just recently, on March 11 in Great Smoky Mountains National Park, which straddles the border between North Carolina and Tennessee.
The Accord was purchased brand new in 2003 at Pensacola Honda by Kilmer's wife and served as their faithful daily driver for 12 years. She had good taste, optioning the Satin Silver coupe in EX trim with leather seats and a six-speed manual transmission, the best enthusiasts' spec available at the time. Kilmer says the car had accumulated "only" 185,000 miles by 2015 when he began driving it for his job as a medical courier. That's when things kicked into high gear, adding 815,000 miles in just 7.5 years, an average of 109,000 miles annually.
The car's original engine is on its last legs. One cylinder has low compression and the car has developed a misfire. That being said, the engine has been one of the more reliable parts of the car. The transmission had to be replaced, for instance, as well as a few clutches. Unexpected wearables include the driver's seat, control arms, and door lock actuators. It's also on its third radiator.
Kilmer's family and friends joined him at Smoky Mountain National Park to celebrate the occasion. In the group were three other Honda Accords of varying generations. If you know someone who's gotten a million miles out of a single car, why would you buy anything else?