Alfa Romeo Builds One-Off Giulia SWB Zagato Coupe And It Is Glorious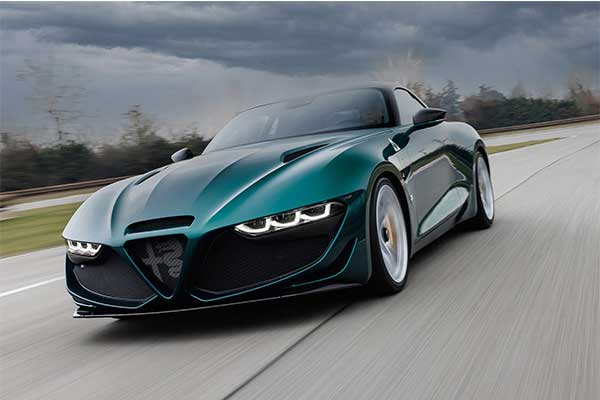 The Alfa Romeo Giulia is not long for this world, at least as we know it. Starting in 2027, the Italian marque aims to only sell electric vehicles, with the current gas-powered lineup giving way to battery-powered replacements around 2025. But before that happens, famed Italian design house Zagato has decided to celebrate the Giulia with a striking one-off called the Alfa Romeo Giulia SWB Zagato.
As the name suggests, the SWB Zagato is based on a shortened Giulia platform, but the engine is not borrowed from the standard Giulia Quadrifoglio. Instead, it's equipped with the more ferocious engine from the limited edition Giulia GTAm. The twin-turbocharged V6 in the track-focused GTAm produces 540 horsepower, up from 503 hp in the standard car. The bodywork over the top of the shortened wheelbase (just how much it's been shortened remains a mystery) is made of carbon fiber, lending it lightweight construction in addition to its sultry style.
The front end is dominated by air intakes (including one shaped like the Alfa grille) and it features a pair of Tonale-like LED headlights. The coupe's profile is characterized by a long hood, a short rear end and a carbon fiber double-bubble roof panel left unpainted, while the back end gets a thin, curved light bar and a massive air diffuser.
Just one example of the Alfa Romeo Giulia SWB Zagato exists, and it's destined for a German collector whose fleet includes a number of Alfa Romeo and Zagato vehicles. He also owns the S.Z., which he uses as a daily driver, according to Zagato.
As for a modern coupe from Alfa Romeo, the automaker teased one based on the Giulia platform in 2018. However, plans for the car were canceled following the formation of Stellantis, Alfa Romeo's current parent company, in 2021.