Alfa Romeo Renaissance Kicks Off Full-Time With Launch Of Tonale SUV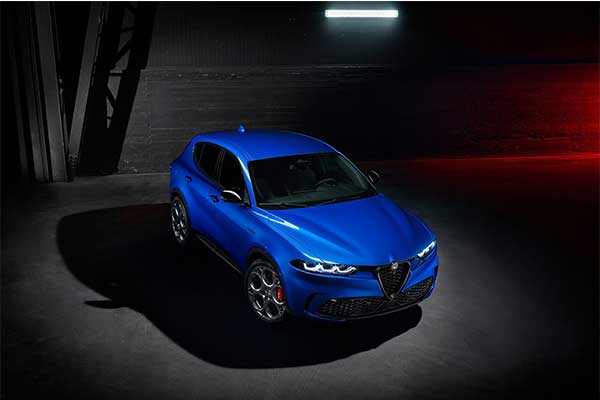 Alfa Romeo has finally taken the wraps off the production version of 2019's Tonale concept, and not a moment too soon. There's a huge weight of expectation resting on this small crossover's shoulders.
The 2023 Tonale will be offered with two powertrains. The headlining act is the new plug-in-hybrid setup, which pairs a 180-horsepower turbocharged 1.3-litre inline-four powering the front wheels with a 121-hp electric motor mounted on the rear axle. The system sends a combined output of 272 horsepower to all four wheels, and the electric motor draws its juice from a 15.5-kWh lithium-ion battery. The Tonale PHEV uses a six-speed automatic transmission and Alfa Romeo promises over 30 miles of electric driving range.
The other engine option is a 2.0-litre turbocharged four-cylinder that makes 256 hp (191 kW) and 295 pound-feet (400 Newton-meters) of torque. It runs through a nine-speed automatic to an all-wheel-drive system.
Each version of the SUV will be equipped with three driving modes: Dual power/Dynamic, Natural, and Advanced Efficiency. These are pretty self-explanatory, but something that may take some time to fully understand is the decision to offer a strange kind of world exclusive. The Tonale becomes the first car on the market equipped with a non-fungible token (NFT) digital certificate.
The Tonale's comes standard with a 12.3-inch digital infotainment cluster and a 10.25-inch infotainment screen. The tech runs on the Uconnect 5 software suite that supports over-the-air updates. The system has wireless connectivity for Apple CarPlay and Android Auto. There's also support for Alexa home-to-car and car-to-home communication with smart devices.
The Tonale is also equipped with standard safety tech including adaptive cruise control, lane-keep assist, and automatic emergency braking. A Traffic Jam Assist feature will be able to steer and adjust the speed of the vehicle on the highway