Hyundai Launches All New 2024 Kona Range Of Crossover SUVs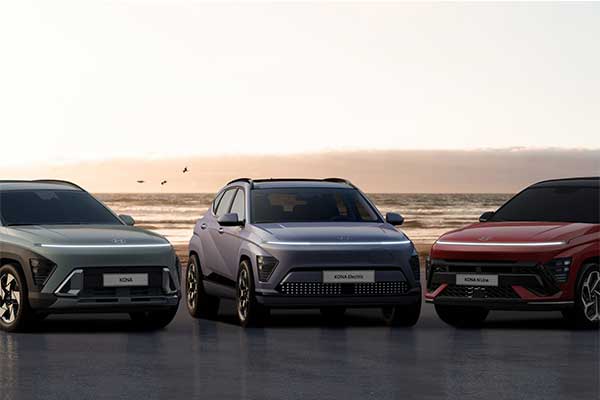 Hyundai has revealed the all-new 2024 Kona crossover SUV and as before will be available in an internal combustion engine, hybrid, and electric variants. The subcompact crossover has been a hit for Hyundai, consistently coming in among the Korean automaker's top five bestsellers since it was launched in 2018.
Set to be a radical improvement over its predecessor, the "upscaled model" features a bold new design that is ruggedly futuristic and far more premium looking. While each variant has a slightly different appearance, all Konas have a curved nose with a slender "Seamless Horizon Lamp" that spans nearly the entire width of the vehicle.
From the side, the 2024 Kona models share a similar look. The hybrid- and combustion-powered variants have body cladding on the fenders. The EV and N Line keep this section in the body color. The N Line has a rear spoiler, silver side skirts, and available black pieces for the mirror caps and roof. The rear matches the front by having a light bar stretch across the hatchback. Like the headlights, the tail lamps are in the lower corners. The N Line gets dual exhaust outlets.
Step inside and you'll, once again, find EV-derived styling. There are 12.3-inch dual wide displays, a so-called "floating module," and ambient lighting. Interestingly, the gearshift has been relocated to the column behind the steering wheel. Beneath the displays is a center stack where the controls for the HVAC system are found. The second-row bench seat "reinforces the Kona's 21st-century urban design aesthetic." Cargo space has been increased behind that rear bench, but Hyundai did not reveal the dimensions.
Hyundai hasn't given any details on power, efficiency, and other details. Those will come in the near future. We expect that information in the next few months in time for the new model year.