Ambulance Plying One Way In Lagos Crushes Technician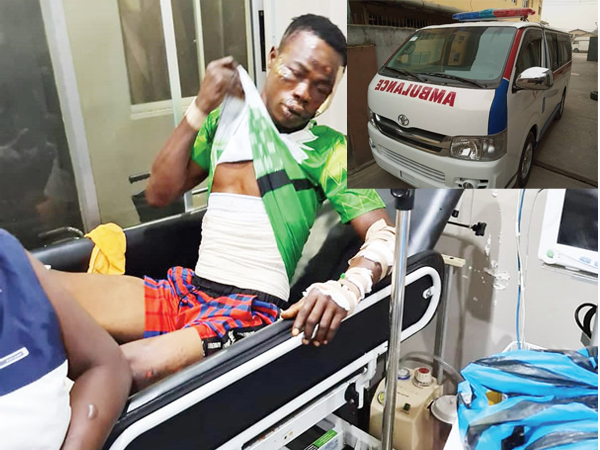 A technician, Ismaila Bakare, is battling for his life after an ambulance attached to the Ajah General Hospital, Lagos State, ran over him at the Lekki Phase 1 in the Eti-Osa Local Government Area of the state. Ambulance
According to reports,  Bakare was on his way to meet a customer last Saturday when the ambulance driver, who was driving against traffic, crushed him as he attempted to cross the Lekki Epe Expressway.
Bakare, an indigene of Lagos State, was rushed to the Accident and Emergency Unit of the Lagos Island General Hospital for treatment.
The 29-year-old was said to have been discharged despite not fully recovering from his injuries.
The victim, while writhing in pain, said that he suffered internal injuries and had been vomiting blood. Ambulance
He said, "On that day, I left my wife at home to collect money from one of my customers. When I got to the Lekki Phase 1 area, I attempted to cross the expressway. The driver of an ambulance driving against traffic suddenly ran over me. I collapsed immediately and woke up at the Accident and Emergency Unit of the Lagos Island General Hospital.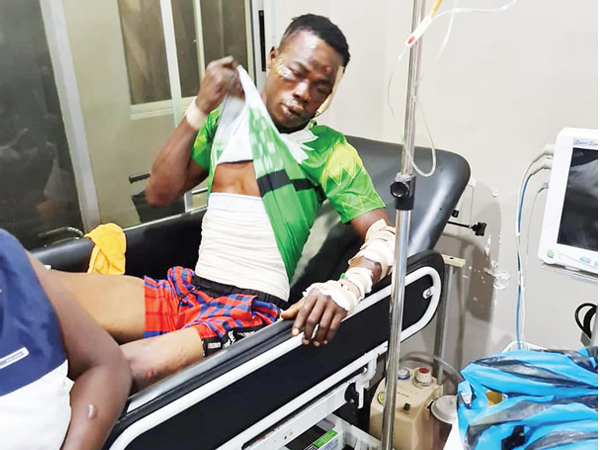 "The muscle of my leg cut off and was stitched; my head was also stitched. My back was filled with bruises;  I vomit blood. I am in serious pain. The boss of the ambulance driver visited me the next day and gave me N3,000. He also purchased some drugs for my treatment and paid for my X-ray. Ambulance
"I have not seen him since then because he only sends people to check on me and once gave them N5,000 to give me. My family has been the one spending money on my treatment and feeding. The result of the X-ray indicated that there is blood in my chest, but the nurses and doctors refused to treat me; they discharged me despite being in severe pain.
"I have been calling the social workers and the Medical Director of the Ajah General Hospital, Dr Quadri, but they refused to pick my calls. The last time the social workers picked, I was told Dr Quadri travelled. I am not happy because I have been abandoned. I can't feed myself, my pregnant wife and my child. This is because I have not been able to do any work after the accident."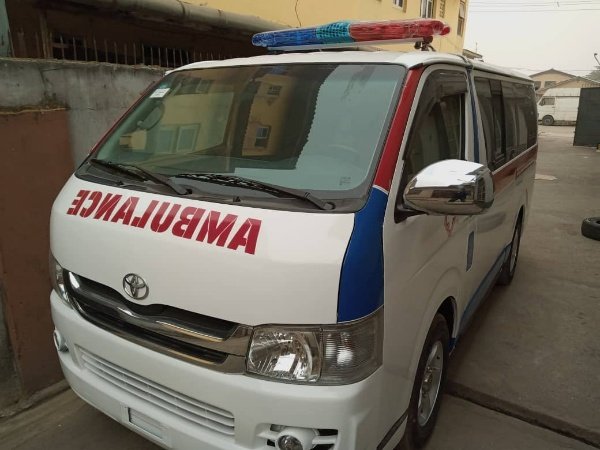 Bakare's counsel, Funmilola Salami, said that he had petitioned the Lagos State Governor; the Secretary to the State Government; the Commissioner for Health; the Chairman, Lagos Health Service Commission; the House of Assembly Committee on Health; the House of Assembly Committee on Public Petitions; the Director-General, National Human Rights Commission, Lagos chapter; and the Attorney-General of Lagos State, over the matter. Ambulance
He said, "I called Dr Quadri and he confirmed that the Ajah General Hospital's ambulance was the cause of the accident. We believe Bakare should not be left in limbo; we are of the opinion that it is too early to discharge him, and that he was not given adequate medical attention. Bakare's complaints against Dr Quadri and the driver of the ambulance working for the Ajah General Hospital should be investigated.
"He should be duly compensated for the injuries and the loss of manpower time. When I checked him before the hospital sent him packing, he was still throwing up blood and it is unbelievable that he will be asked to go home within a short space of time. They feel he is taking up space, despite complaining of chest pain." Ambulance
Quadri, in a text message to our correspondent, said, "He (Bakare) can present in General Hospital Lagos if there are any complaints."