Checkout List Of Cars To Be Auctioned For Taking One-Way In Lagos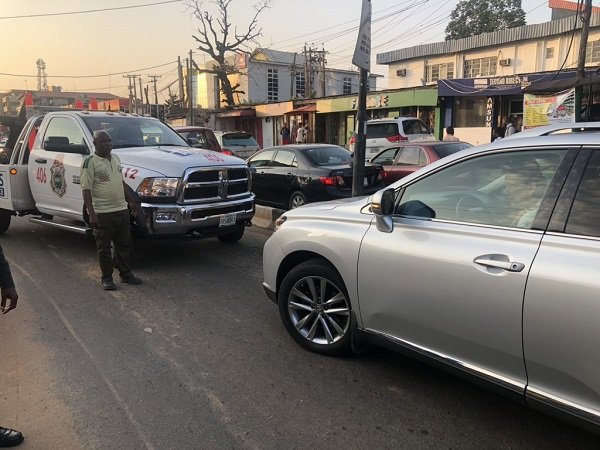 Lagos State Environmental and Special Offences Unit (Task Force) has announced an auction of forfeited vehicles in Lagos. One-Way
They stated that interested members of the public especially owners whose vehicles were forfeited to the State Government that all necessary arrangement has been concluded with Court Order for the auction. This is in accordance with the Law for a "Public Auction". One-Way
The auction would hold at the Agency's car park (Behind Shoprite), Alausa, Ikeja on Monday 23rd OF November, 2020.
See the list of vehicles to be auctioned below. One-Way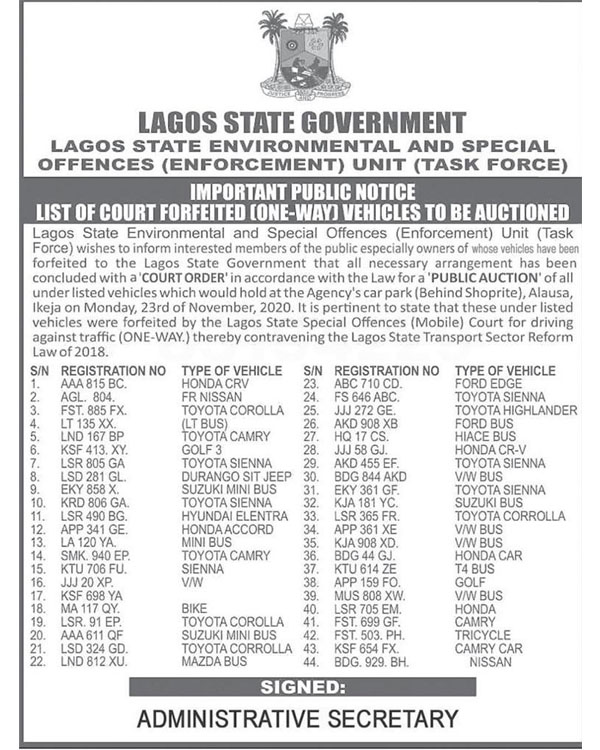 Lagos court orders forfeiture of vehicles over traffic offence
Recently, the Lagos State Mobile Court ordered the forfeiture of 31 vehicles. They were to be forfeited to the state government for violation of a traffic rule.
The drivers of the vehicle were arraigned by the Lagos State Environmental and Special Offences Unit (Task Force) on one count of driving against traffic. One-Way
The offence was said to be punishable under Part (III) item 27 of the Lagos State Transport Sector Reformed Law of 2018.
Following the plea of the drivers, the court ordered the forfeiture of their vehicles to the state government. One-Way
The court also ordered 43 other drivers to pay various sums as fines to the state government. Their offence was plying the BRT corridors and causing road obstruction.
Only 74 drivers appeared before the court out of the 160 traffic offenders arrested. This was according to the Chairman of the agency, Olayinka Egbeyemi.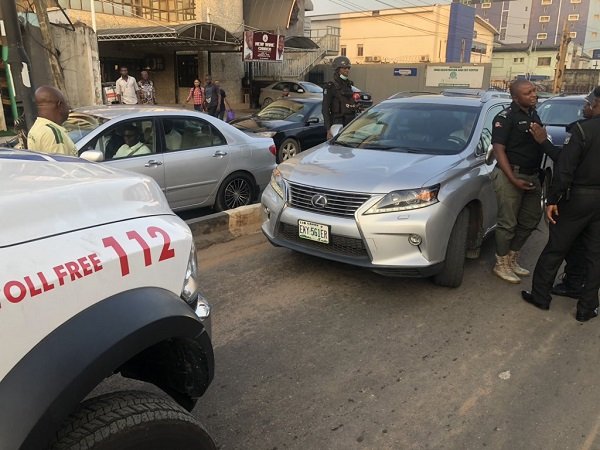 Egbeyemi added that the agency acted in response to a series of complaints from members of the public. The complaint was particularly about activities of motorists taking one-way drivers. This often caused gridlock daily since the #EndSARS protest across the state.
He said, "It is painful that with a high level of enlightenment campaigns and several warnings by the government, motorists, including private car owners, are still driving against traffic knowing full well that the penalty for such offence is outright forfeiture of the said vehicle to the government." One-Way