Audi Adds Performance Updates To RS7 Sportback And RS6 Avant With 621Hp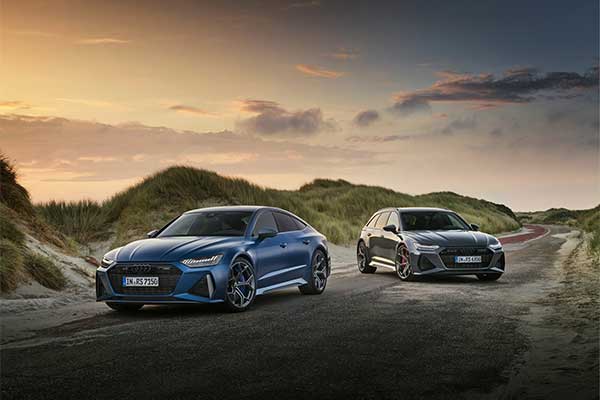 Audi has launched a Performance update for its RS7 Sportback and RS6 Avant and both cars pack a serious punch. The existing versions were already fantastic vehicles, with each featuring a 4.0-liter twin-turbocharged V8 producing 591 hp and 590 lb-ft of torque. But clearly, there was room for improvement.
Ingolstadt's engineers have therefore lifted output by 30 hp and 50 Nm (35 lb-ft) compared to the standard models. Courtesy of the newly unlocked muscle, the dynamic duo from Audi can now sprint to 62 mph (100 km/h) from a standstill in only 3.4 seconds or two-tenths of a second quicker than before. The RS6 Performance and RS7 Performance get the RS Dynamic Package as standard, increasing top speed to 174 mph (280 km/h) and adding rear-wheel steering.
The new update has therefore increased the RS6 Avant and RS7 Sportback power output to 621 hp and 627 ib-ft. Other Performance upgrades include sharpened handling thanks to tweaks made to the self-locking center differential, Audi said, and a fresh look thanks to an available 22-inch lightweight wheel design. The wheels are wrapped in Continental Sport Contact 7 tires, measuring 285/30. According to Audi, the new rubber helps shave about 6.5 feet from the distance required to come to a standstill from 62 mph.
It's not just powertrain upgrades though – Audi has worked on reducing weight by fitting a new 22-inch wheel that's 5kg lighter per corner than the old wheel. A further 8kg is also saved by reducing the sound insulation between the engine bay and the interior, which should help liven things up a bit from the driver's seat too.
Inside, the traditional red and grey accents have been joined by a new blue option. When selected, drivers will find blue contrast stitching on the Alcantara-wrapped steering wheel, floor mats, and center console. They're joined by blue seat belts and perforated Valcona leather seats with blue contrast stitching.
Orders will start on December 8 with deliveries to begin early next year.