Mercedes-AMG Unleashes Most Powerful S-Class Variant Ever In The S63 AMG E Performance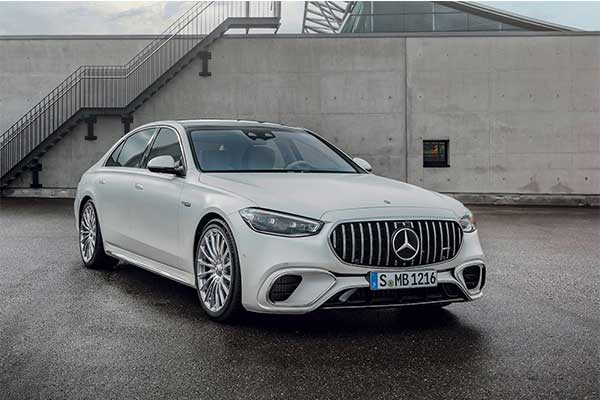 Mercedes controversially replaced the 2024 AMG C63's V8 with a plug-in-hybrid four-cylinder setup, sparking worry among AMG aficionados that other high-powered Mercedes could suffer a similar downsizing. But fear not, for the new 2023 Mercedes-AMG S63 E Performance retains its twin-turbocharged 4.0-liter V8, adding a permanently excited synchronous electric motor to produce a massive 791 hp and 1055 pound-feet of torque.
The battery mounted above that axle is small at 13.1 kWh, and provides an unimpressive 21-mile  range, though it could be worse – the C63's tiny 6.1 kWh battery only allows 8 miles of Zero emissions driving. AMG claims the focus wasn't on the range, however, but on performance and the S63 certainly delivers plenty of that.
By itself, the twin-turbo V8 makes a peak of 603 hp from 5,500 to 6,500 rpm. The max torque of 664 lb-ft is available between 2,500 and 4,500 rpm.
The electric motor has a continuous output of 94 hp. A peak of 188 hp is available for 10-second internals. The max torque is 236 lb-ft. There's a two-speed transmission for it that shifts into second gear at around 87 mph. The drivetrain for the ICE portion of the powertrain consists of a 9-speed automatic that sends the output to an all-wheel-drive system. The rear axle has 2.5 degrees of steering.
In addition, the S 63 E Performance rides on an adaptive air suspension that has the ability to lower the sedan by 0.4 inches at speeds above 75 mph. It also has active roll stabilization that reduces body roll during cornering. Active engine mounts can soften or stiffen the connection between the V8 and the body, depending on the driving conditions. Performance estimates for the S 63 E Performance include 0-60 mph acceleration in 3.2 seconds and a top speed of 180 mph.
The S 63 E Performance follows a familiar styling pattern, though an AMG-specific grille is featured in another first for an AMG-tuned S-Class. Inside, there's the usual high quality of the S-Class cabin coupled with AMG-specific features. These features include exclusive colors, various Nappa leather options, AMG logos, and AMG-specific graphics and menus in the digital instrument cluster and infotainment system. AMG also fits its own steering wheel with controls for the AMG Drive Unit drive modes selector.
Final specifications and pricing information will be announced closer to the market launch.