Mazda 6 Clocks 20 Years With A 2023 Refreshed Anniversary Edition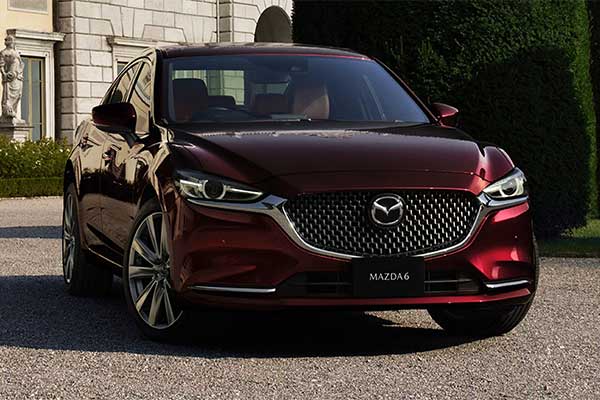 The Mazda 6 is offered in a very large number of markets. Not everyone is aware that its first generation was introduced in 2002. Yes, 20 years ago. That's why the brand decided to celebrate by introducing a limited edition. Here is the Mazda 6 20th Anniversary Edition, which will be offered for sure in Japan and Australia.
The new special edition that commemorates two decades of the Mazda6 is visually distinguished by the 20th-anniversary badges on the front fenders, while the grille and the 19-inch alloy wheels are finished in high-gloss silver giving it a more premium stance. For the exterior, buyers have a choice between the Artisan Red Premium Metallic and the Rhodium White Metallic shades, although the former is admittedly the more distinct-looking of the two.
Inside, the Mazda 6 20th Anniversary special uniquely offers a tan interior trimmed in Leganu suede and Nappa leather. The front headrests are also embossed with 20th Anniversary logos. The 6 sold in its domestic market gets an electric sliding sunroof as standard equipment. Much like the MX-5 Miata, the Mazda6 still uses the company's previous-generation infotainment.
Engine-wise, the Mazda 6 is powered by a turbocharged 2.2-liter SkyActiv-D diesel engine producing 197 hp and 332 lb-ft of torque. Power is transmitted to either the front wheels or to all four wheels through a six-speed automatic gearbox.
Australian buyers get the 20th Anniversary special with the turbocharged 2.5-liter Skyactiv-G petrol engine that produces 232 hp and  310 lb-ft of torque. Similarly, power is transmitted to the front or to all four wheels through a six-speed automatic. Other naturally aspirated and turbocharged petrol options are also offered in Japan but in lesser trims.
The 6's future looks uncertain considering a rear-wheel-drive model based on Mazda's new platform has already been ruled out.