Most Powerful Mercedes-Benz C-Class Ever The C63s E Performance Unveiled And Its Loaded
After a long wait, Mercedes-Benz has finally taken the cover off the latest C63s E Performance which is available in both sedan and wagon (estate) body styles. Like the C43 that came out some time ago that lacks the V6, the new C63s E Performance does away with the V8 and settles for a more powerful 4-cylinder engine that is super advanced.
The handbuilt M139l 2.0-litre turbocharged four-cylinder engine is the most powerful series-produced four-pot in the world, producing 469 hp at 6,750 rpm. Maximum torque is available from 5,000-5,500 rpm and is rated at 402 lb-ft. This is achieved thanks to an electric exhaust gas turbocharger, while a 6.1-kilowatt-hour, 400-volt, lithium-ion battery developed using F1 technology feeds a 201-hp/236-lb-ft electric motor on the rear axle that's recharged using an on-board 14V charger.
Altogether, the system generates a total of 671 hp and 752 lb-ft of torque. Thanks to an all-wheel drive system that can send power to the front axle when the rear tires slip and the AMG Speedshift nine-speed automatic transmission, Mercedes estimates that 0-60 mph takes just 3.3 seconds. The top speed is 155 mph but can be increased to 174 mph. Oh, and there's a Drift Mode too.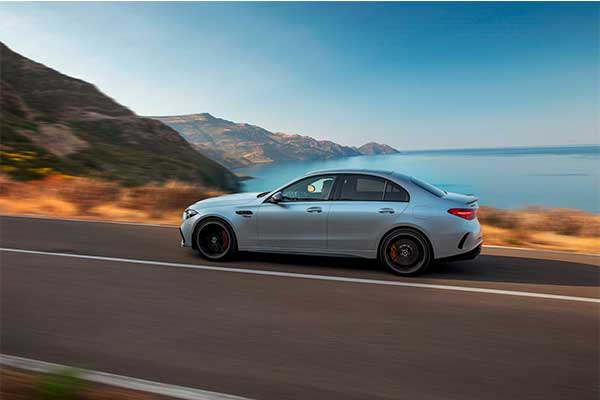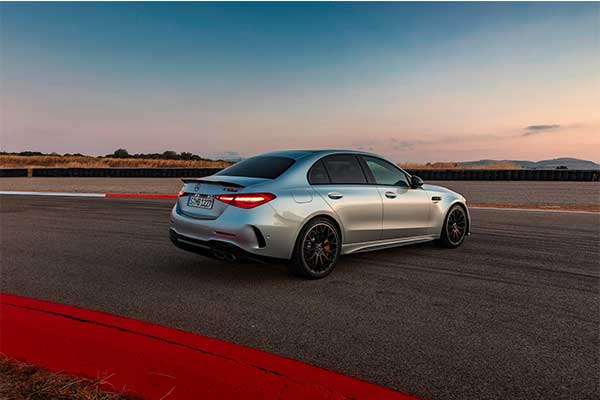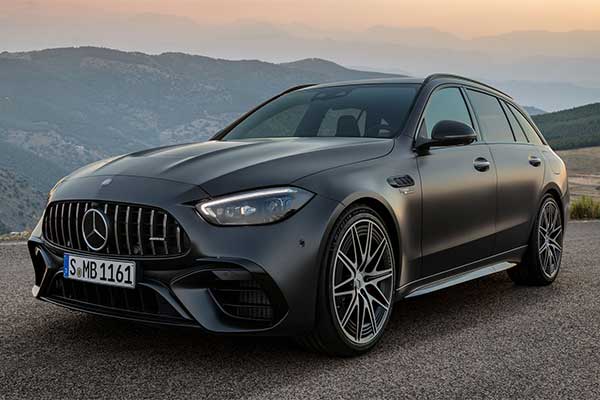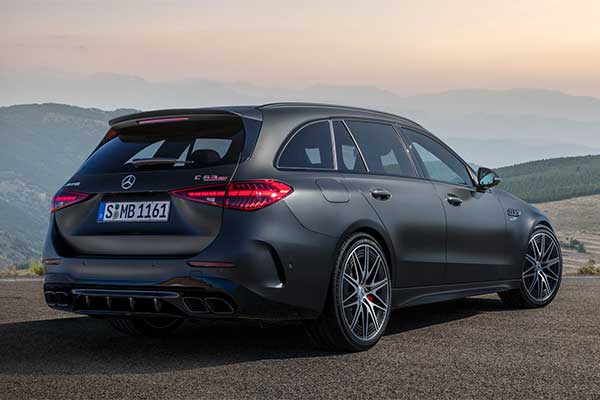 Rear-axle steering also makes its debut on the new C63, and carbon brakes join a list of standard equipment that includes adaptive dampers for the steel-spring suspension and an AMG Dynamics drive mode selector with a new "Master" mode that allows the kind of oversteer antics C63s have become famous for. Drivers also get AMG-specific graphics in the digital instrument cluster and head-up display, plus a button on the steering wheel giving four levels of energy recovery ranging from almost nonexistent to strong enough to allow one-pedal driving.
The driver can do a lot to tweak the character of this car. There are no less than eight driving modes, plus four modes for regenerative braking. AMG hopes to make up for the loss of the V-8 sound through artificial sound effects, which are transmitted into the cabin for the benefit of the occupants and through external speakers for the benefit of bystanders. The press release speaks of a "low-frequency, speed-modulated sound."
Inside, the C 63 S E Performance has standard sport seats or newly designed second-generation AMG Performance seats with open side bolsters. The digital instrument cluster and portrait-style centre infotainment screen add hybrid and AMG displays and functions, including an AMG-specific Supersport theme for the instrument cluster. Prices have not yet been announced.