Baro Port: 7 Months After Commissioning, This Multi-Billion Naira Port Is Still Dormant
The Baro Inland Port in Niger State is yet to commence operation. This is after 17 months since its commissioning by President Muhammadu Buhari.  The President commissioned the port a few weeks to the 2019 general elections.
The Baro Inland Port is in Agaie Local Government Area of Niger State.
The Baro port project cost was put at N5.8 billion. It was awarded to a Chinese firm CGCC Project Limited in 2011/12. However, non-release of the fund had stalled its completion. This led to its abandonment before the Buhari administration took it upon itself to deliver it.
The port boasts of a quay length of 150 meters, cargo stacking yard of 7,000 square meters. It also has a transit shed of 3, 600 square meters and an estimated capacity of 5,000 TEU at a time.
The Baro port is equipped with facilities such as water hydrant system, water treatment plant, three forklifts of various tonnages. It is powered by a 100 KVA generating set. The port is expected to provide 2,000 direct and 2,500 indirect jobs.
President Buhari, during the inauguration of the port, expressed deep personal attachment to the project. According to him, he assisted in the design of its complex during his time as chairman of the defunct Petroleum Special Task Force (PTF).
He said the project will enhance intermodal transportation connectivity in Nigeria. It will also reduce the pressure of big trucks on the country's roads. Also, it will create huge economic opportunities for Nigerians and help in decongesting similar ports.
However, according to reports, the facility that it has been lying dormant since its commissioning. Residents said no single cargo has been lifted. Neither has any vessel berthed since the ceremony unveiling it for business activities in January of 2019.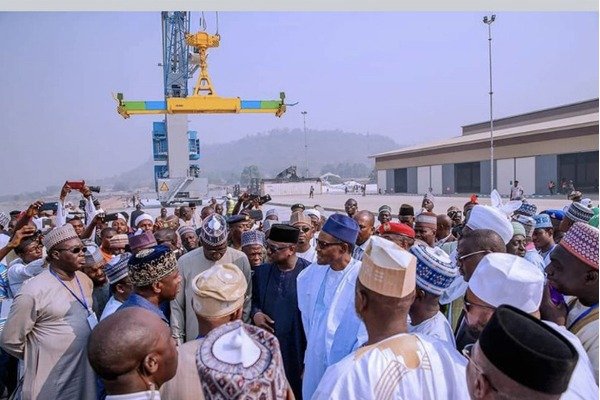 "The initiative raised our hope of the revival of economic activities we witnessed when the colonialists established the port up to the early 70s. However, our expectation is dimming by the day because, since the commissioning of the place. No activities have taken place there," Captain Hassan Mohammed (rtd), an indigene of the community, said.
An advocacy group rooting for the completion of the project, The Blue Resolution Initiative (TBRI),  in a statement issued in Minna, stated.  "It is sad to discover that Baro port has been abandoned and laying waste more than seven months after it was commissioned. The President only rushed to commission uncompleted port in Niger state only as electioneering gimmick. We have discovered that no serious dredging of the River Niger took place. If any was even done,  it was not intended for any big ship or vessels but barges of low or medium economic activities," they said.