BBN Uriel Shares How She Was Hated For Not Having A Car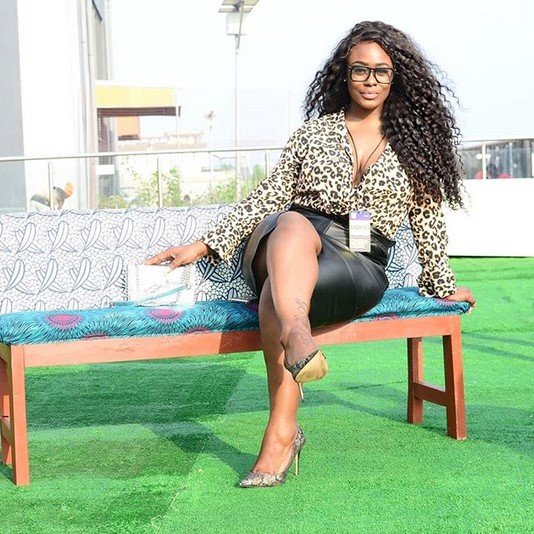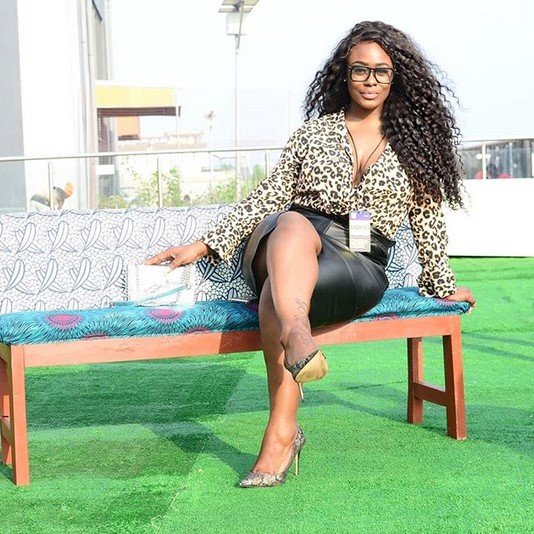 Big Brother Naija 2017 housemate,Uriel Ngozi Oputa, took to her Instagram account to address someone that hated on her for not having a car of her own.
The 'hater' went further to compare her success after leaving the BBNaija house in 2017 to that of Alex who participated in the reality show in 2019.
She wrote;
Firstly My Name is Ada Uriel Ngozika Chukwu Oputa… Not Alex.. I love her so much. She's Hot!!
Secondly I Never judge or Compare my Life style to anyone's we all have a different cross to bare.. How can I look at another women like Alex who's working hard like myself and Hate?? NEVER. MEHN.. I NO GET BAD BELLE OO .I SLEEP EASY.
YES I DO WANT A CAR @igba_ka_igba but like I said we all have a Cross to bare.. If I really wanted to buy a Car I could but we all have a Cross to bare . When you are constantly paying for round the clock Care for a Sick parent then maybe you will understand the pressure.. We all have cross to bare.
I'm not looking at a Fancy Car but a wheelchair friendly Car so I'm able to get my mum from point A to B.
Lastly Check well since I left the big brother house I've been Signing deals back to back.. working back to back .. I'm not going to sit here and Lie healthcare of my mum is worth more than anything.. as long as she's alive.. I would ride taxis all day.
This is why I'm still relevant today… I Work HARD.
Now my small minded sister..
Love always lives Here. Not hate because I would end up looking like you
Damn that would be a disaster.
PS
I LOVE.
MY MUM ASKED ME SOMETHING… URIEL WHY DO YOU LOVE ME SO MUCH ? BECAUSE YOU TAUGHT ME HOW TO LOVE AND APPRECIATE MY WORTH
P.s I've worked with so many brands and I'm about to Add a international brand to the Bill..
Hate does not Live Here
Keep working I'm me you are you..
Don't allow negativity into your Space..
I responded because even when your working people will say you No Get Job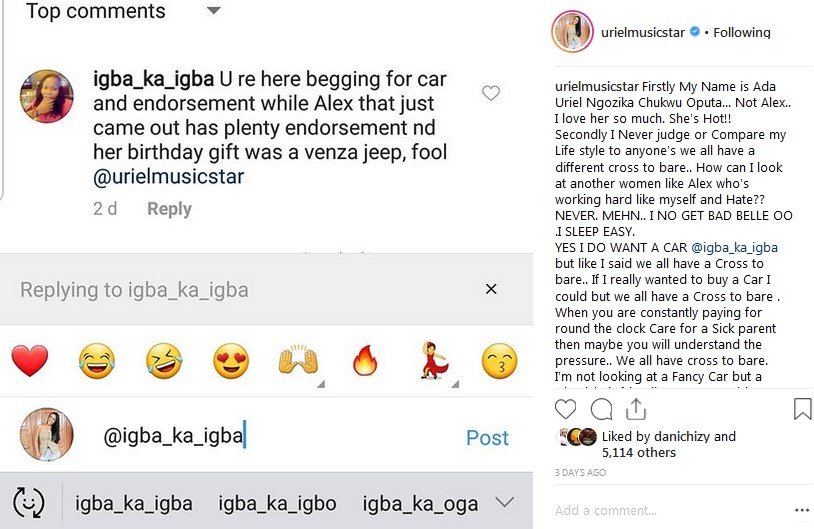 In her next post, she went further to talk about the issue.
She wrote;
Someone Hated on me because I dont have a a car.. Delay is Never Denial.. when your enemies bring you down God pushes You 10 steps forward.
#Hardwork pays..
Hate is so pointless look at God though.
I'm about to buy my mum an electric wheelchair 😂😂 I'm not pushing again my back
After the Hate some offered me his Range ROVER.. to Use until I buy a Car
I said No tho.. God bless you sir
People offered me Money.. Don't ask me what I said😂😂 Hate doesn't pay.