BMW And Stadel Museum Team Up To Create A One-Off BMW iX1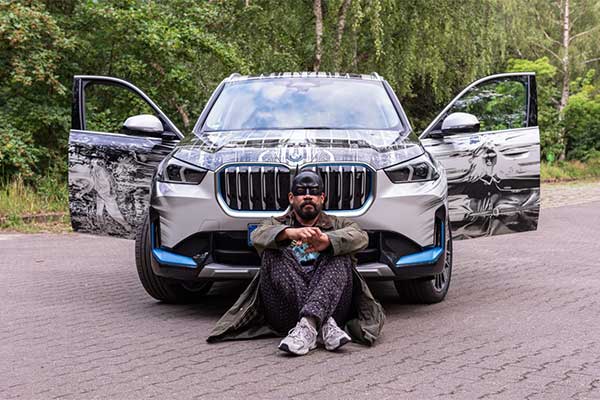 Following its tradition of creating vehicular artworks, BMW joined efforts with the Stadel Museum, one of Germany's oldest art institutions. But don't expect your typical corporate sponsorship, oh no, this is something far more curious.
Marc Brandenburg, an artist known for his let's say 'distinctive style', was given the task of spicing up a BMW iX1. While initially, we all may be thinking getting an artist to re-design a vehicle is a little bit out there, it's not the first time BMW has done it. According to the company, it is all about pushing the boundaries of what we consider to be art.
Brandenburg, a Berlin native who spent his formative years in the US before returning to his homeland, is no stranger to the unconventional. According to the official press release, his drawings have always been about challenging norms and exploring new perspectives – we're not art critics by any stretch of the imagination, but this sounds a lot like someone trying to explain a canvas covered in colorful blobs of paint. And what better canvas to do that on than a BMW iX1?
The resulting 'artistically enhanced' BMW iX1 was unveiled in the Städel Garden, where Brandenburg, along with Svenja Grosser, Deputy Head of Contemporary Art at the Städel Museum, explained the artistic concepts behind the car's design. That kinda begs a question – isn't art supposed to be self-explanatory? An art that needs explaining seems to be missing a point – but who are we to disagree? Both artists and BMW believe the vehicle is more than just a mode of transportation – it's a moving piece of art. That point we can understand and agree on.
This new partnership between BMW and the Städel Museum isn't just about one car though. The two institutions are planning a whole series of events called STÄDEL INVITES, with the goal of making contemporary art accessible to a wider audience. The next STÄDEL INVITES event will be an exhibition by Miron Schmückle in December. Each event offers visitors a chance to dive into the contemporary art collection and discover exciting connections with the artist's work.
BMW has a history of collaborating with leading museums, art fairs, and platforms worldwide, including Art Basel, the Frieze art fair, the Kochi-Muziris Biennale in India, and the Gallery Weekend Berlin.