BMW Unleashes The M4 GT4 Which Is The M4 CSL On Steroids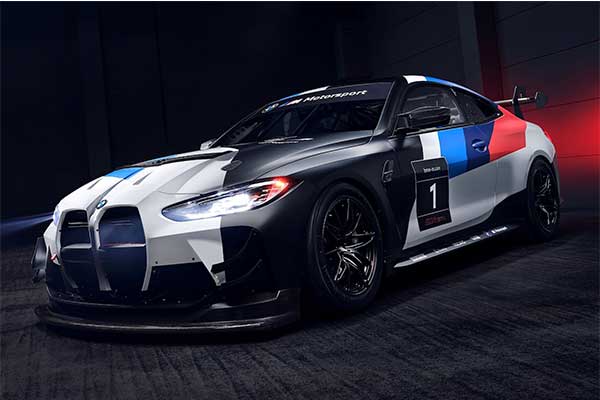 Just a month after the launch of the M4 CSL, BMW has done it again with an even more powerful M4 GT4 but it's a racing model so if you need one you will have to get a team to race with.
This track-only beast looks fast standing still courtesy of a comprehensive aero kit featuring a giant front splitter that could easily double as a snowplough. The front canards and muscular side skirts are telltale signs this is not your typical M4, and it's especially obvious inside the stripped-out cabin making the CSL road car look civilized by comparison.
The new M4 GT4 car will run you $195,967 USD. For that money, it had better be faster than an M4 CSL, and it is. BMW debuted the newest M4 GT car ahead of the SRO event at Virginia International Raceway.
"We took on the challenge to develop a successor to the highly successful first-generation BMW M4 GT4", said Franciscus van Meel, CEO of BMW M. "Using a wide range of customer feedback, our experienced development team and the new sixth-generation BMW M4 based production car has led to a faster, reliable and very emotional all-new BMW M4 GT4."
Some will be surprised to hear the M4 GT4 has not only air conditioning but also a heated windscreen and even a ventilated Recaro seat as standard equipment. The traction control system has no fewer than 10 adjustable modes while the anti-roll bars at the front and rear have five-level adjustability. BMW Motorsport has fitted the race car with H&R suspension springs featuring three different rates along with KW shock absorbers.
Power comes from the twin-turbo 3.0-litre straight-six, making up to 550 ps (542 hp / 405 kW) and 650 Nm (479 lb-ft) of torque, depending on the regulations, mated to a ZF seven-speed automatic transmission.