These Brabus 800 And 900 Are The Baddest Saloon Cars At The Geneva Motor Show (Photos)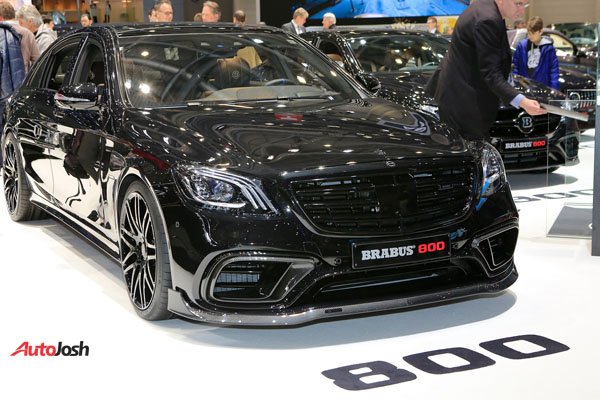 The Geneva Motor Show is not just a festival to showcase only newly released cars.
Car tuning companies are not left out of the auto fair.
One of the biggest car-tuning corporations – Brabus – makes a representation at this years' edition.
Three of Brabus' tuned saloon cars exhibited at the motor show stood out as the meanest.
First, is the Mercedes-AMG E63 S in Brabus 800 spec.
This midsize premium saloon is pushing down 739 HP as well as 1,000 Nm (737 lb-ft) of torque, for an electronically limited top speed of 300 km/h (186 mph) and a 3-seconds flat 0 to 100 km/h (62 mph) acceleration time.
Simply put, there are not many four-door cars that can keep up in to this performance like the Brabus Mercedes-AMG E63 S.
Perhaps, this is why it cost about N111million ($309,700).
However, Brabus also came with something better.
Also on exhibition is the very same Brabus 800 kit, installed on the Mercedes-AMG S63 S.
While you might think that this would not be as quick as the E63 S, and technically you would be right. The difference is, simply put, insignificant.
The S-Class-based Brabus 800, with the same amount of power and torque as the E-Class we just talked about, will hit 100 km/h (62 mph) in 3.1 seconds and max out at the same 300 km/h (186 mph) as its smaller sibling.
The S-Class-based Brabus 800 is up for sale at N149million ($444,000)
Lastly, there is the Brabus 900. This saloon car is based on the updated Mercedes-Maybach S650.
This full-size limo is powered by a molded twin-turbo V12, massaged to deliver no less than 888 Hp. This is enough to get it from a stationary position to 100 km/h (62 mph) in just 3.7 seconds, while the top speed is in excess of 349 km/h (217 mph).
Now, talk about an automotive tuning company that keeps raising the bar.