Businessman Rams His SUV Into A Keke NAPEP Used By Escaping Armed Robbers (PHOTOS)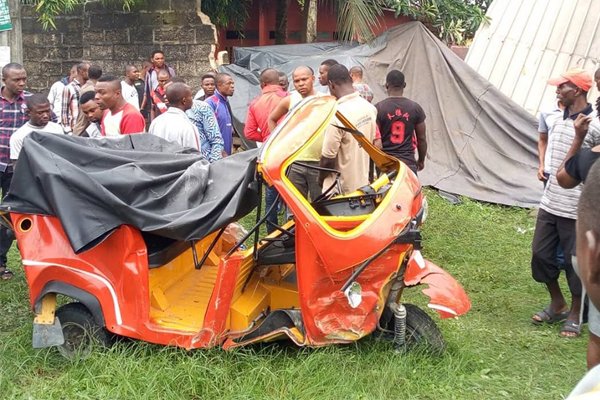 The owner of a supermarket in Uyo, Akwa Ibom state became the hero after a robbery at his supermarket.
According to a report by a Facebook user, Ban Ifj OsisiOkhumu, the event occurred yesterday evening.
It happened when the owner of a supermarket while sitting in his SUV outside his supermarket, noticed that the supermarket was being robbed.
The robbers later escaped the scene in a tricycle popularly referred to as Keke NAPEP.
The supermarket owner, on noticing the escape, then engaged the fleeing robbers in hot pursuit in his SUV.
When he eventually caught up with the robbers, he rammed his SUV into them.
Read the report as told by the Facebook user:
"So it happened yesterday evening 25 June 2019, In Uyo. Armed robbers stormed a supermarket along the IBB way .
Successfully carted away valuables and the day's sales . Got into their Keke tricycle (as seen in the picture) and escaped .
Unknown to them , the owner of the supermarket was inside his black SUV (as seen in the picture damaged ) and observing the robbers rob and leaving .
Immediately they left happily, he started his SUV engine and gave them a hot chase. In less than a kilometer from the robbery spot, he forcefully with all powers to the throttle like his foot was glued to it , he slammed from behind and left the side of the keke, straight into the escaping robbers in their brand new getaway Keke. Thereby serious causing the Keke and it's robbers occupants to summersault several times. Unfortunately, the SUV driver lost control due to the speed and force he used to knock off and out completely, the Keke and its armed robbers. 
The SUV ended up in the fence of the nearby school . Badly destroyed too. As for the robbers, in the confusion they least expected, people rushed to the scene and the SUV ( supermarket owner) raised an alarm which saw two of the robbers being caught on the spot and on the ground . 
It was like a James Bond movie in life replay! 
At times , it pays to be daring after weighing the situation on the ground".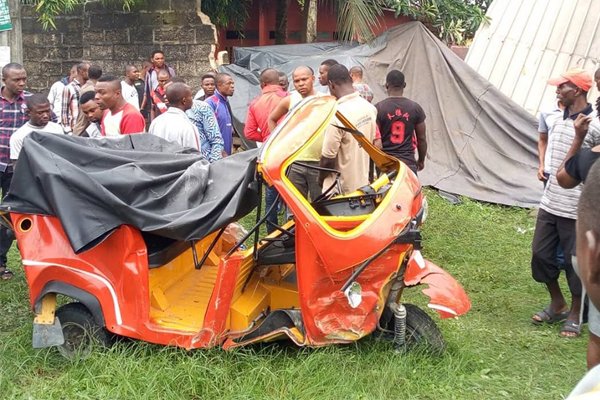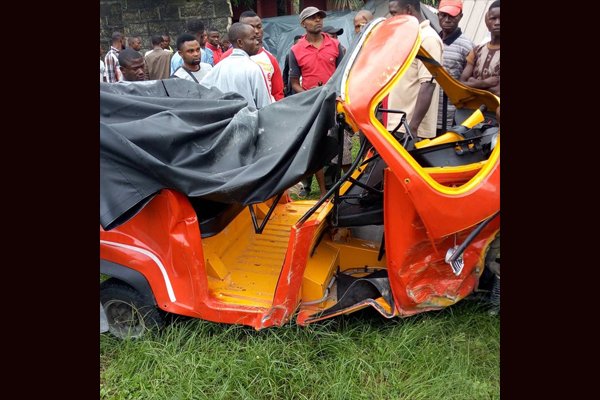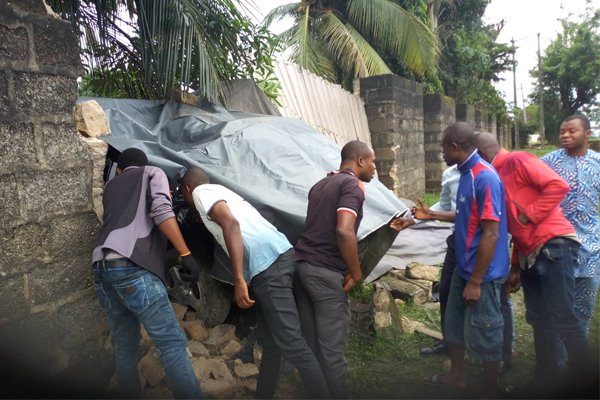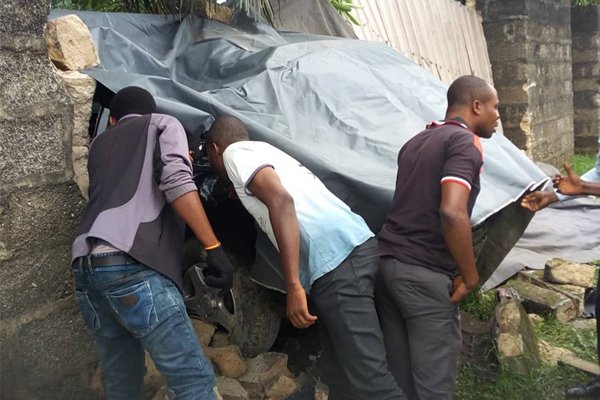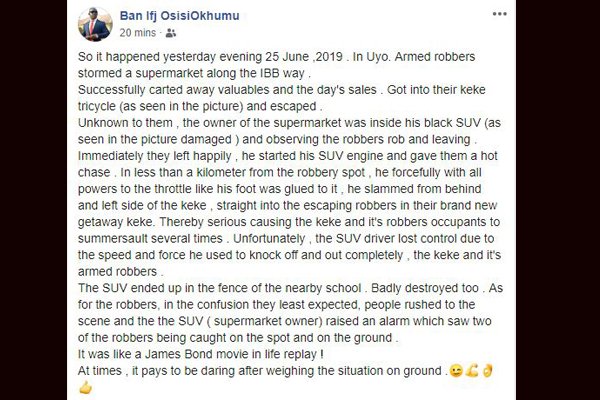 Photo Credit: Ban Ifj OsisiOkhumu