Car Wars!Aston Martin Chiefs Mocks Rolls-Royce's £350k Phantom Model As Old-fashioned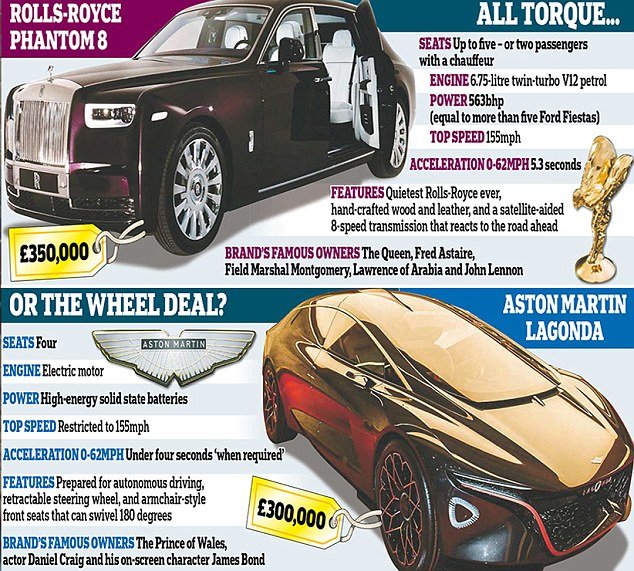 A war has broken out between the bosses at the brands whose customers include the super-rich, royalty and of course, James Bond.
The clash began after Aston Martin's design chief Marek Reichman said its new £300,000 electric-powered Lagonda prototype, launched at the Geneva Motor Show would 'disrupt' the super-luxury market dominated by Rolls-Royce and Bentley by offering 'guilt-free luxury' to ultra-wealthy motorists.
Mr Reichman went on to tell motoring magazine Autocar that Rolls-Royce was "an imperfect package for luxury" made to replace a horse , a carriage and a trunk.
He also said executives from Silicon Valley firms such as Apple and Google would be more likely to drive an Aston Martin Lagonda.
Later in the interview, Reichman dropped the bomb into the conversation: "Rolls-Royce and Bentley are Ancient Greece today. I worked on the original Phantom. The brief was Buckingham Palace on wheels. It was important to do that to establish it. But the world has changed, and the royals have changed."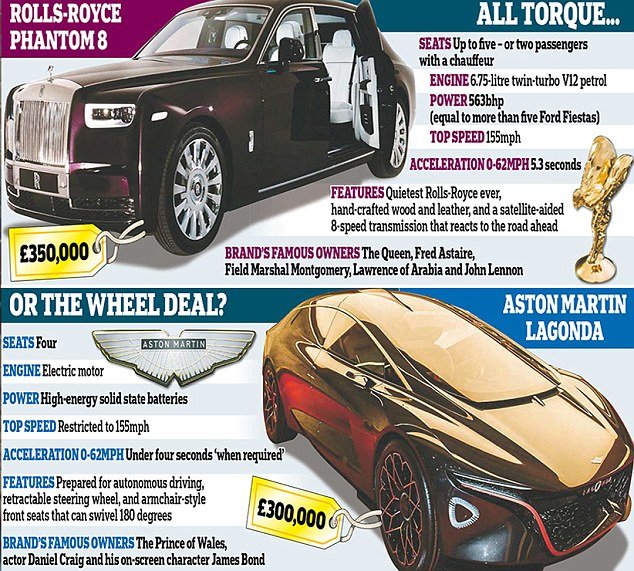 Separately, Aston Martin chief executive Dr Andy Palmer said that the Lagonda, which is expected to enter production in 2021, would offer 'guilt-free luxury' to attract younger wealthy motorists. He added: "If Rolls-Royce is a Boeing 777, then Lagonda will be Concorde. It doesn't need a big grille."
The remarks provoked a furious response from Rolls-Royce's chief executive, who suggested Aston Martin was not in the same league as his company.
Speaking to the Financial Times,Mr Muller-Otvos said: "Why are they behaving like this?"There's enough room for three great British brands – Rolls-Royce, Bentley and Aston Martin. We don't criticise our rivals".
"It's not a very gentlemanly way to behave. Why are they saying such things? Let them do their own thing, we'll do ours. They talk about guilt-free luxury. What does that mean? They don't understand luxury. I think they are on a completely different league of pricing".
"What they've done is not good business. They have zero clue what's going on in the upper, upper segment, zero. I am sorry to be so blunt."
Do you agree with what Aston Martin Chiefs said about Rolls-Royce,and do you think it was right to criticise their rivals?