How Profitable is a Car Wash Business and other Tips for Starting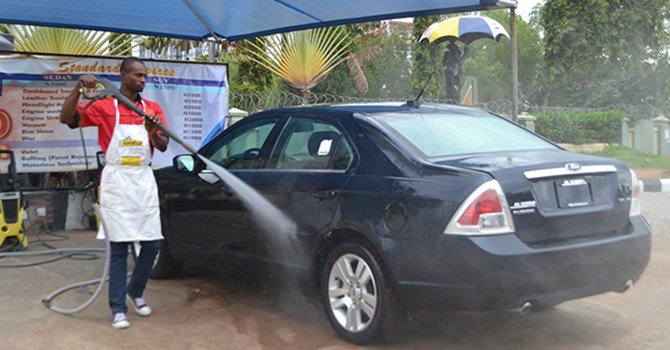 Starting a business in Nigeria comes with its own natural disadvantages. As a country that has long been rated among the worst places to do business, you have to raise your game to succeed in this business clime.
However, car wash business is one of those businesses you can make lots of money from despite the state of the country.
In this article, we will examine just how profitable it can be. Remember, the profitability of any business depends on those who run the business. So, be ready to take on the responsibility.
How Profitable is a Car Wash Business?
Making money off a car wash business depends largely on the location.
The location you chose will determine how much money you can make. When choosing a location, these two things should be at the fore front of your consideration:
The number of cars or number of people using cars in the area. Since cars are your means of doing business, the number should be the first thing you focus on. More cars in any particular area means more sales. Likewise, few cars means bad sales.
The second consideration should be the class of the people. In Nigeria today, 500 naira is considered the standard for washing cars. However, this price is higher in some locations than others. Therefore, a location with wealthy individuals with a good number of cars is a big selling point and should be considered in determining your choice of business location.
You should note that you are the one to provide the water, detergent, and other resources needed for washing the car. Hence, you might want to pass water from another source other than a borehole drilled by you. This helps in lowering business cost and is vital in the short term.
Another tip that can determine how much profit you take home is labour. Are you washing the cars yourself or employing the services of others? Since you'll be paying for labour per car, you should know that all the revenue won't be going to your pocket.
Otherwise, if you can do it yourself, fine. But, this might prevent you from expanding into other territories and doing lots more.
The amount needed to start a car wash business depends on the facilities you want to have. You have to do your feasibility study yourself; don't expect a random person, an internet user like you, to tell you the specific amount you need. It's your business. Go build it!
Car wash business is one of the most lucrative businesses to do in Nigeria. All the factors are in place – the roads are bad and muddy, Nigerians love using several cars, and many don't have the time to wash their car themselves. What else do you need? Go make money.