Check Out The Lexus LX600 Overland Vehicle Looking Like An Absolute Beast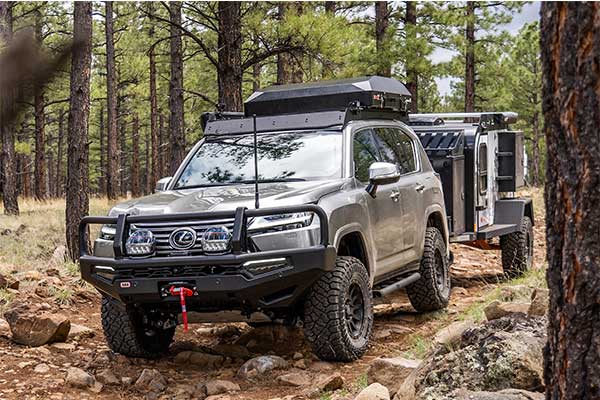 A 2022 Lexus LX 600 has been comprehensively modified ahead of the Overland Expo West 2023 in Flagstaff, Arizona, and transformed into what event organizers refer to as the 'Ultimate Overland Vehicle.'
The Ultimate Overland Vehicle 2023 was built by Mule Expedition Outfitters, using all-new and existing components from CBI Offroad, Goose Gear, MagnaFlow, Prinsu, Radflo, and Total Chaos. All of the new components will be available to LX600 owners to enable them to build their own dream overlander. Last but not least, the overland vehicle now rides on proper off-road tires. The lifted suspension enables the fitment of 33/12.5 R17 Kenda Klever R/T tires on all four corners, wrapped around 17-inch Compression wheels with a black finish. A full-size spare wheel and tire set is attached at the back. If the Lexus is too rich for your blood, you might want to look at some cheaper alternatives.
The boxy Lexus SUV isn't the only piece in this overlanding puzzle, as an Off Grid Trailers Pando 2.0 camper is also in tow. This is no run-of-the-mill camper, either. With a claimed 8.0 inches of wheel travel and 24.0 inches of ground clearance, the Pando 2.0 is ready to tackle tough terrain. A 360-degree articulating hitch ensures its presence has little effect on the Lexus it's attached to.
This camper has all the luxuries of home too, including a sleeping area capable of holding a queen-size mattress, an air-conditioning system, a shower enclosure, a hot water system, and a rear galley kitchen. The latter bit holds up to 33 gallons of fresh water for the sink. A dual-burner cooktop and a pizza oven that's hidden within the camper's slide-out storage space mean going off-grid doesn't require sacrificing hot meals.
In addition, the 3.5 L twin-turbocharged V6 engine that cranks out 409 hp and 479 ft-lbs of torque remains untouched.