Rimac Nevera Hypercar Obliterates 0-60 MPH Production Car Record In 1.74 Seconds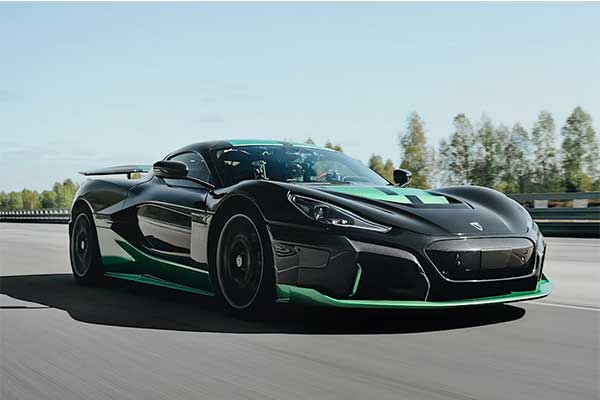 Hypercar maker Rimac has obliterated 23-speed records over the course of three days at a test track in northern Germany. From April 28-30, Rimac charged up a stock Nevera electric two-seater and fired off a total of 23-speed records at the ATP Papenburg testing facility outside of Bremen.
The most recognizable of the new marks was 0-60 mph, which it dispatched in an Earth-shattering 1.74 seconds, handily beating the previous mark of 1.98 seconds set by Tesla with a Model S Plaid.
Unlike Tesla, which loaded its launch pad with sticky track-prep for better grip and adjusted the temperatures of its batteries and motors, Rimac did not apply any track surface stickiness or adjust the temperatures of its motors or battery.
The Nevera exceeded all expectations and even bested its claimed 0 – 60 mph time of 1.85 seconds. The latest test runs achieved a 0 – 60 mph sprint time of 1.74 seconds, which makes the Rimac even faster than the Pininfarina Battista, which has held the record since November.
Pininfarina Battista set the world record last November, it accelerated from 0 to 100 km/h in 1.86 seconds, Nevera went out and took it away with 1.81 seconds. It's a difference you won't be able to tell, but at the same time, it's a huge and difficult difference to beat. The 0 to 200 km/h record set by Battista was bettered by Nevera by 0.33 seconds – 4.42 against 4.75, which actually is a big gap.
As previously hinted by CEO Mate Rimac on social media, the Nevera has established a new world record for the fastest production vehicle to go from 0 to 249 mph (400 km/h) and then back to 0. It needed 29.94 seconds to get the job done whereas the Koenigsegg Regera took 31.49 seconds to complete the same task back in 2019 at the Råda airfield in Sweden.